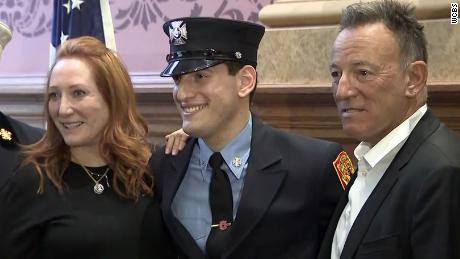 The Boss's fearless son is officially ready to go fight fires in New Jersey.
Sam Springsteen, the son of Bruce Springsteen and Patti Scialfa, was among 15 firefighters sworn in Tuesday by the mayor of Jersey City, NJ.
Sam, 26, was sworn in alongside 14 other new recruits during a Tuesday ceremony at the Jersey City, New Jersey, town hall.
Her father and mother, Bruce Springsteen and Patti Scialfa, were on hand for the swearing-in of their son.
The Boss and Scialfa sat in the front row as their son was sworn into the newest class. "He was very dedicated for many years, and we are just delighted for him today".
"This is my son's day, so I'm staying out of it", Bruce told a local ABC affiliate.
Asked what it mean to be a firefighter in Jersey City, Sam shyly said, "I'm going to take a pass on this one".
In a photo-studded Twitter statement, Jersey City Mayor Steven Fulop that he is very happy to welcome Sam to the department.
More than 200 firefighters have been hired since 2013.
He is the youngest of Bruce Springsteen's three children with wife Patti Scialfa.
Sam graduated from the Monmouth County Fire Academy in 2014 and took a civil service exam to become a member of the department in 2017, according to CBS New York.