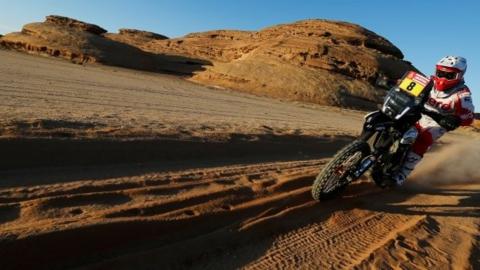 Dakar Rally racer Paulo Goncalves has died, following a crash in Stage 7.
Race organizers got an alert at 10:08 a.m. and dispatched a medical helicopter that reached him eight minutes later, the Dakar Rally said. He was found unconscious by the staff of a medical helicopter and taken to hospital, where he was pronounced dead.
"The entire Dakar caravan would like to extend its honest condolences to his friends and family".
Goncalves suffered mechanical problems on Friday, having to change his bike's engine to stay in the race, and dropped to 46th overall after the sixth stage.
The motorsport world gave many tributes to Goncalves as news of his passing made news headlines around the globe.
Paulo "Speedy" Goncalves, 40, was making his 13th appearance at the event in Saudi Arabia when he fell off in the seventh stage and was later pronounced dead in hospital.
The last competitor to die on the Dakar Rally was Polish motorbike racer Michal Hernik in Argentina in 2015, though two non-competitors were killed in crashes with vehicles in 2016.
The Portuguese rider was competing with Indian motorcycle manufacturer Hero in his 13th-ever Dakar Rally.
The Dakar Rally canceled Monday's stage.
Sharing his thoughts on the incident, Mr Wolfgang Fischer, Head - Hero MotoSports Team Rally said, 'Words can not describe our shock and loss at this moment. Rodrigues broke his back in a Dakar crash two years ago but returned after extensive surgery and was 27th after stage six.
American Ricky Brabec extended his overall lead in the category. But Carlos Sainz managed to bag his third stage win in the second-longest Special Stage.
He finished second in 2015, after a great duel with Marc Coma. (Mini), Nasser Al-Attiyah (Toyota) and Stéphane Peterhansel (Mini) remain in charge of the top-3 positions with four stages remaining.
Following that he had stormed to three straight top ten finishes over the next three stages, including fourth fastest in stage four, allowing him to blast his way higher up the overall standings.