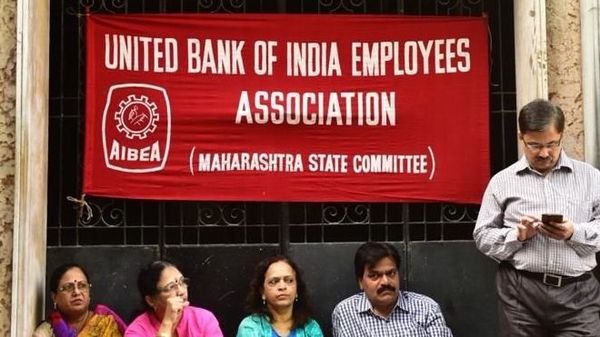 The protesters are demanding raising the minimum wage in the range of Rs 21,000 - Rs 24,000 per month. However, services at private sector banks are unlikely to be impacted.
Trade unions have claimed around 25 crore people will participate in the stir. Protesters were seen carrying the red trade union flags at several places such as Tumakuru, Mysuru, Bengaluru and others.
Modi's government has said it plans to sell firms, such as Air India and Bharat Petroleum Corporation, asserting they have made losses for years, as it prepares its next annual budget.
The eastern states of Bihar and Odisha, Maharashtra in the west, Haryana in the north and Kerala and Karnataka in the south were also hit by the strike.
CH Venkatachalam, general secretary of the All India Bank Employees' Association, said the proposed merger of 10 public sector banks into four banks would affect jobs and could hit the recovery of bad loans amounting to almost $140bn.
"Any employee going on strike in any form would face the consequences which, besides deduction of wages, may also include appropriate disciplinary action", an order issued by the Ministry of Personnel said today.
"Modi government's policies have led to a severe economic slowdown and have created bad loans for banks", Venkatachalam told Reuters news agency by phone. The government's actions are "detrimental to the national interest and national development", they said.
But the strike added to pressure on the Modi government already hit by widespread protests over the nationality law passed on Dec 11. More than 25 people have been killed in protests.
"The strike action by working people in urban and rural India, small or big towns, in factories, and farms, on streets and highways was tremendous surpassing the previous strikes", the 10 national trade unions who called the strike said in a joint statement.
Opposition parties have backed the strikers.
The government projected a 5pc economic growth in the current fiscal year, April 2019 to March this year, sharply down from last years 6.8pc with the manufacturing, cement and power sectors faring poorly. "BSNL-MTNL merger announced and 93,600 telecom workers out of jobs", the unions said.