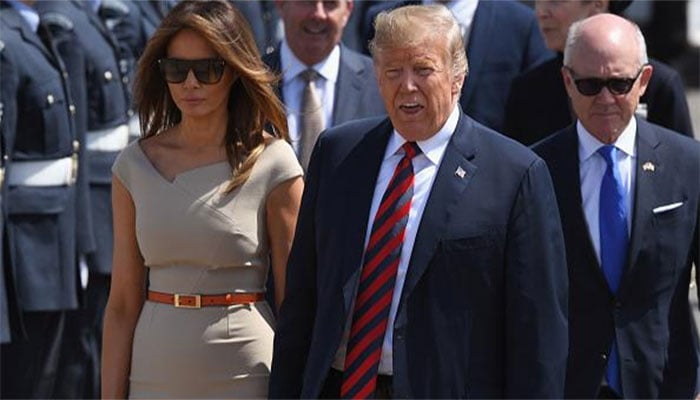 Patriotism is the theme of Christmas at the White House this year.
Author and designer Coleen Christian Burke has worked with several First Ladies to bring together their unique vision of Christmas at the White House. In the State Dining Room, at the opposite end of the hallway, the decor continues to showcase American design.
The 2018 White House decorations were brutally criticized because they included 40 infamously creepy blood red trees.
The almost minute long video featured Melania Trump putting the finishing touches on several trees and walking through the White House admiring the decorations.
In the East Room, four star-spangled trees are decorated with a gilded eagle to act as a reminder of the country's freedom and strength.
The popular display also features models of landmarks from across the country, including Mount Rushmore, St. Louis' Gateway Arch, the Alamo, the Liberty Bell and the Statue of Liberty, besides the Golden Gate Bridge and the Space Needle.
The pastry team constructed the Gingerbread House out of 200 pounds of gingerbread dough, 125 pounds of pastillage dough, 35 pounds of chocolate and 25 pounds of royal icing.
The holiday season is in full swing at The White House! The tree stands over five metres tall and comes from Pennsylvania.
As is tradition, volunteers from all 50 states descended on the White House like elves, hanging the 800 feet of garlands, tying 15,000 bows and stringing more than 2,500 strands of lights. The tree is decorated with handmade paper flowers representing each state and territory.
A fireplace mantle in the Green Room.
The year before, in 2017, her white and black decorations were compared to the dwelling of Harry Potter's Voldemort.
In the East Garden Room is a Christmas tree with first family's annual ornament, the American flag, and the Christmas card.