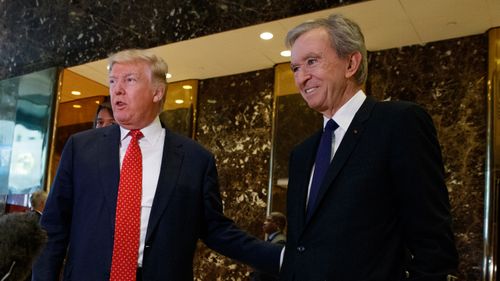 The world's biggest luxury goods company is buying US-based jeweller Tiffany & Co for more than $16bn (£12.5bn).
"We are delighted to have the opportunity to welcome Tiffany, a company with an unparalleled heritage and unique position in the global jewelry world, to the LVMH family", said Bernard Arnault, chairman and CEO of LVMH. Despite this, some analysts have questioned the move since news of the approach first broke last month, wondering why LVMH would want to purchase a brand no longer considered top-tier, especially since it already purchased Bulgari for $5.2 billion in 2011.
The $135-per share cash deal will boost LVMH's smallest business, the jewelry and watch division that is already home to Bulgari and Tag Heuer, and help it expand in one of the fastest-growing sections of the industry.
While LVMH's stable of 75 brands includes Christian Dior fashion and Dom Perignon Champagne, the company hasn't been as prominent in jewellery as in fashion or cosmetics. While the company dwarfs Tiffany, with sales of about US$50 billion, some analysts had predicted LVMH might need to pay even more, with price targets of US$140 at Credit Suisse and US$160 at Cowen.
Tiffany has 321 stores in more than 20 countries.
The transaction is expected to close in the middle of 2020 and is subject to conditions, including approval from Tiffany's shareholders and the receipt of regulatory approvals.
LVMH initially bid $120 per share for the fabled American jeweler in October, kicking off weeks of haggling before the parties settled on $135. They were trading around $90 per share at the beginning of October, before LVMH first began to make overtures to Tiffany's management.
Tiffany, known for its delicate jewellery, distinctive blue boxes and an Audrey Hepburn movie, says the deal will ensure its long-term sustainability. LVMH shares have risen 3.2 per cent during the same period.
Tiffany's shares closed trading on Friday at $125.51.
Tiffany has been around for more than 180 years and was key in establishing the diamond ring as "an enduring symbol of commitment".
Citigroup Inc and JPMorgan Chase & Co gave LVMH financial advice, while Tiffany hired Goldman Sachs Group Inc.
Tiffany said in a joint statement with LVMH that its board of directors recommended shareholders approve the transaction.
LVMH sees Tiffany's "wide range of prices as a good way to attract younger shoppers", the company added. LVMH's legal counsel was Skadden, Arps, Slate, Meagher & Flom LLP, while Tiffany's was Sullivan & Cromwell LLP.