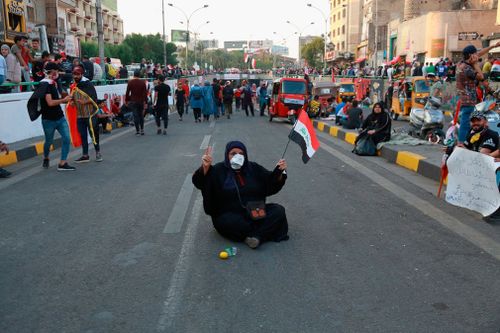 At least three anti-government protesters have been killed in clashes with security forces in southern Iraq, officials said Tuesday, as authorities tried to reopen the country's main port, which had been blocked by demonstrators for three days. There were no immediate reports of casualties in the incident, which comes amid ongoing protests in the capital Baghdad and majority-Shiite provinces in the south. A relative of the outspoken writer, who spoke on condition of anonymity for fear of reprisals, said heavily armed masked gunmen snatched him from his apartment in a dawn raid.
But protesters have demanded an overhaul of the entrenched political class and deep-rooted change to end rampant corruption they charge is holding the country back.
A government report said almost 150 people were killed in the first week of the unrest in early October, 70% from bullets to the head.
Protests restarted after a two-week lull, with fewer deaths and an easing by the government of internet restrictions on social media sites.
"They already cut the internet once, and doing it again won't do anything", said Ammar, a 41-year-old protester in the square.
Protesters have been complaining of high unemployment and poor public services.
The anti-government protests that have convulsed Iraq in the past month are fueled by economic grievances and are mainly directed at Iraq's own political leaders.
Iraqi protesters carry a comrade who fainted due to tear gas used by security forces to disperse the crowds in central Baghdad during anti-government demonstrations in the Iraqi capital on October 25, 2019.
"Threatening the oil interests and blocking roads leading to Iraq's ports is causing big losses exceeding billions of dollars", he said. They unfurled a banner at one roadblock reading: "Roads closed by order of the people".
It was the first time live ammunition was sacked at Baghdad demonstrators since protests resumed on October 24, following a period in which riot police had switched to use tear gas amid accusations of "excessive force".
He said security forces are not using live ammunition but would arrest anyone trying to block roads or bridges.
He met with senior judicial and security officials at the Federal Police Headquarters late Monday to discuss ways to restore stability while preserving the right to protest and to protect private property, according to a government statement. "They act like they are the sons of this country and we are beneath them", said Hassanein Ali, 35, who is from the Shiite holy city of Karbala but came to Baghdad to protest.
Security forces forcibly dispersed a sit-in there overnight but no deaths were reported, security sources said. Al-Mahdawi was one of several doctors who have volunteered to provide medical aid to the protesters.
Abdul Mahdi has said he is willing to resign if politicians agree on a replacement and has vowed a number of reforms. He also called for a new election law and said he would approve early elections once it is enacted.
"We're not allowing government workers to reach their offices, just those in humanitarian fields", such as hospital staff, he said. Meanwhile, the protests have only grown since the president's initial announcement.
The protesters have focused their anger on Shiite political parties and militias, many of which have close ties to Iran.
After he was toppled by the US-led invasion of 2003, political parties tussling for influence were the only actors able to draw large numbers out into the streets.