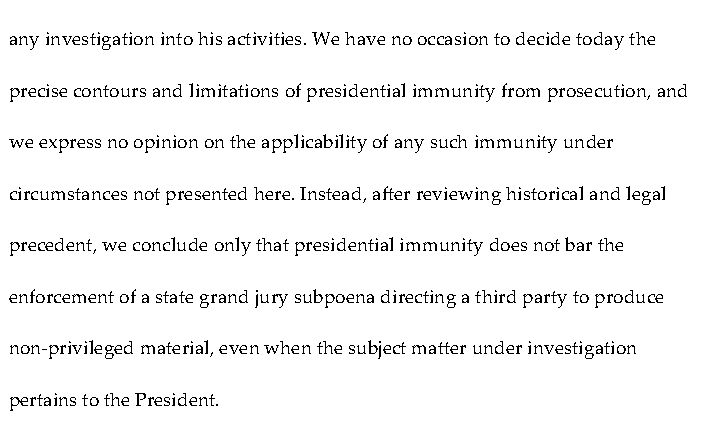 President Trump's tax returns can be turned over to state criminal investigators, a NY appeals court ruled Monday, finding that Manhattan District Attorney Cyrus Vance Jr. can subpoena the commander-in-chief's financial records from his accounting firm.
A lower-court judge in NY ruled last month that Trump can't stop his accountants, Mazars USA LLP, from providing eight years of taxes and other financial documents to Vance, whose office is investigating whether the Trump Organization falsified business records to disguise hush payments to two women who claimed they had sex with him.
The appeals panel's decision upholds a lower-court ruling that rejected Mr. Trump's lawsuit seeking to block his accountant from letting a grand jury see his tax records from 2011.
The court said it would "exact a heavy toll on our criminal justice system to prohibit a state from even investigating potential crimes committed" by the president - for possible prosecution after he leaves office - or by others without immunity "simply because the proof of those alleged crimes involves the president".
"The decision of the Second Circuit will be taken to the Supreme Court", Trump's lawyer, Jay Sekulow, said in a statement.
Vance's office is looking into whether any NY state laws were broken when Trump's then-attorney, Michael Cohen, arranged payments to adult film actress Stormy Daniels and former Playboy model Karen McDougal in the closing weeks of the 2016 election.
"The Radical Left Democrats have failed on all fronts, so now they are pushing local New York City and State Democrat prosecutors to go get President Trump", Trump wrote on Twitter in October.
At oral argument last month, Trump's private attorney William S. Consovoy told the court that the subpoena is a politically-motivated "fishing expedition".
The presidential immunity argument has never been tested in court. Vance sought the records in a broader probe that includes payments made to buy the silence of two women who claim they had affairs with the president before the 2016 presidential election.
Trump has denied the relationships and any wrongdoing connected to the payments.
"The decision of the Second Circuit will be taken to the Supreme Court", Sekulow said.
The district attorney's office also agreed not to enforce the subpoena until the Supreme Court either declines to hear the case or reaches a decision, whichever comes first.
On Oct. 7, Judge Victor Marrero of Federal District Court in Manhattan issued a 75-page opinion, rejecting Mr. Trump's position. (D) subpoenaed Mazars for eight years of the president's tax records and other financial documents. A lower court found that argument "repugnant to the nation's fundamental structure and constitutional values".
The House impeachment inquiry focuses on the president's request in a July phone call for Ukrainian President Volodymyr Zelenskiy to investigate a domestic political rival, Joe Biden, the former vice president and a top contender for the 2020 Democratic presidential nomination to face Mr. Trump.
More broadly, Mr. Trump has also fought efforts by Democrats in Congress and others to obtain information about his finances and a range of other matters.