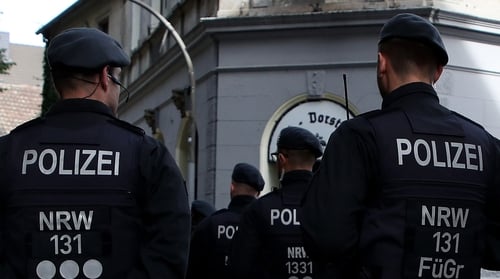 Interior Minister Horst Seehofer said the shooting was anti-Semitic, adding: "According to the federal prosecutors' office, there are enough indications that it was possibly a right-wing extremist motive". It said investigators also have a video that the assailant apparently filmed with a camera on his helmet.
The incident happened in the vicinity of Humboldtstrasse, the same street as a synagogue, Halle police press officer, Thomas Mueller, told CNN. They urged residents to stay in their homes or indoors.
Police report that one suspect is in custody.
German federal prosecutors have taken over the investigation of the case, according to Spiegel.
A video clip shown on regional public broadcaster MDR showed a man in a helmet and an olive-colored top getting out of a auto and firing four shots from behind the vehicle from a long-barrelled gun.
It wasn't immediately clear who posted the video of today's attack on Twitch. A crime scene was in place on Humboldt Strasse, near the Jewish cemetery and the area has been cordoned off by police. News reports state that the shooter killed the second victim in a kebab shop after failing to breach the synagogue.
Twitch, which says it has 15 million daily users, is primarily a site where gamers can livestream their games and chat to other users, though it also has channels focused on sports, music and politics. Witnesses also said a gunman wearing military gear shot and killed a male inside a Turkish kebab shop after throwing a stun grenade that ricocheted off the door frame.
"God has protected us, the whole maybe took five to ten minutes", he said.
Regional broadcaster MDR said the lives of two people who were seriously injured were no longer in danger. Dpa quoted unidentified security sources as saying that an assailant laid home-made explosives outside.
"The man looked like he was from the special forces". He said the man then shot into the shop. The man behind me seems to have died.
Another witness, Conrad Roesler, said that when the attacker started firing at the restaurant, "I hid in the toilet". The others looked for a back exit. I heard another loud bang outside, screaming but I don't know what it was. He said feminism was responsible for Western countries' declining birth rates which are then used as an excuse for mass immigration. All Jewish synagogues, schools and cultural centers in the region are being guarded around the clock by police.
One person is believed to have been arrested.
They tweeted: "We have a deployment in Halle".