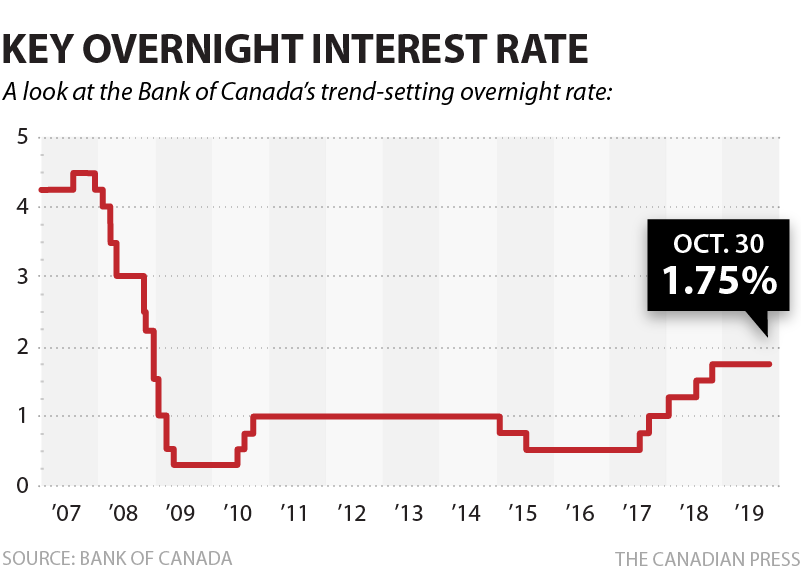 The BoC Governor Stephen Poloz reiterated that Canada faces external risks that can not be addressed via monetary policies.
The Bank of Canada left its policy rate unchanged at 1.75% as widely expected, but there are clear hints of nervousness in the accompanying statement.
Poloz added that his governing council expects the resilience of Canada's economy to be "increasingly tested" amid persistent trade conflicts and uncertainty. With the unemployment rate falling to 5.5%, wage growth running at 4.3%YoY and consumer price inflation running broadly in line with target there does indeed seem little to justify a rate cut from the Bank of Canada this month.
Since the summer, the bank said the global outlook has continued to deteriorate, which has held back business investment, growth and trade.
The Fed's interest-rate cuts, and widespread demand for bonds, pushed down Canadian mortgage rates even as the Bank of Canada stood still.
The Bank of Canada cut domestic and global growth forecasts but maintained its benchmark rate at 1.75%.
"A growing number of countries have responded with monetary and other policy measures to support their economies", the bank said in a statement. The BoC is concerned about trade-related uncertainties and their impacts on exports and investment, and potential spillovers beyond manufacturing.
Bank of Nova Scotia's economics team predicted interest-rate increases at the start of the year, before ripping up the script and calling for cuts as soon as October 30 and again in the first quarter of 2020. "In our view, a global recession would be the main factor leading the (central bank) to start signalling rate cuts".
An interest-rate cut at the central bank's next policy meeting in December or early next year would meet the expectations of many on Bay Street.
At 9:02 a.m., the Canadian dollar was trading almost unchanged at 1.3088 to the greenback, or 76.41 US cents.
The Bank projects real GDP will grow by 1.5 percent this year, 1.7 percent in 2020 and 1.8 percent in 2021.
The Bank says it will be paying close attention to consumer spending and housing activity going forward.
Relatively higher interest rates make Canadian bonds attractive, especially when so much European debt earns a negative yield.
"It's a pretty hard adjustment, but we're happy to see that at least on the wage side that wage growth picked up overall in Canada and wage growth in those particular regions has has also picked up to kind of meet the Canadian average".