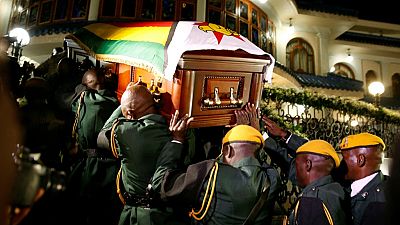 President Mnangagwa has expressed surprise that some members of former President Robert Mugabe's family are not in the country allegedly fearing persecution and were anxious about being barred from attending the funeral of the veteran nationalist who passed away on Friday morning, The Herald heard yesterday.
The emissaries requested that the President extends the same assistance to the family to get more members of both the Mugabe and Marufu families to travel to Singapore both to share in the grief with the former First Lady and assist with the overall arrangement of the repatriation of the body of the late Cde Mugabe.
The plane carried Vice President Kembo Mohadi and Mugabe's relatives.
"...president Mnangagwa expressed surprise that there were some members of the Mugabe family who had left the country without any indication that they were facing any charges". "The family has made a decision that Mudhara will be buried at Kutama - that is the position - but the government is still engaging the family to try to have him buried at (National) Heroes Acre", the relative in Singapore told Reuters.
The choice of Mugabe's resting place has been a topic of discussion since the Zimbabwe Independent newspaper reported last month that Mugabe would snub the offer of a burial at National Heroes Acre - a site reserved for the country's heroes - because he felt bitter about the way he was removed from power.
Mugabe is revered by some as a liberator who freed his people from white minority rule, but he is also vilified by others who say he wrecked one of Africa's most promising economies and ruthlessly crushing his opponents.
The 35,000-seater stadium is where Mr Mugabe took his oath of office at a colourful ceremony when colonial Rhodesian prime minister Ian Smith handed over the country to Mr Mugabe.
On Saturday the body of Cde Mugabe will be taken to the National Sports Stadium in Harare where heads of state and Zimbabweans will pay their last respects. The body will lie in state at Harare's Rufaro Stadium and then at the National Sports Stadium, also in the capital, she said.
This emerged at the weekend as the Mugabe family engaged President Mnangagwa on logistics to give the former President his final rest. "All I know is (that) we are closer to an agreement if the chiefs meet up with the president and discuss the issues", said the nephew.
"Even now we have livestock we keep in the rural areas because of him, so it's painful to lose our father, our grandfather who helped us to learn and go to school", said Tongai Huni, a fruit vendor.
There, Mr Mugabe hoisted the new Zimbabwe flag and lit the independence flame on April 18, 1980 - bringing hope for a new era after a long guerrilla war.