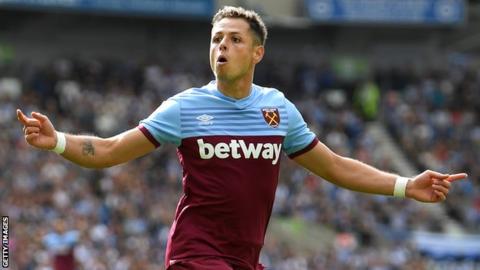 On Monday, on the final day of the transfer window, Sevilla announced the acquisition of 31-year-old striker Javier "Chicharito" Hernández from West Ham.
A positive start to this season for Manuel Pellegrini's side, coupled with the knowledge Hernandez has less than a year remaining on his contract, has convinced the London club to agree to the player's request to leave.
The 31-year-old becomes Sevilla's 12th summer signing and is likely to take his favoured No.14 jersey with the number being free.
"The striker has signed a three-year contract".
"The club would like to thank Chicharito for his contribution and wish him all the best in his future career", a West Ham statement read.
And Gold confirmed his transfer with a freaky photo of the 31-year-old.
Interestingly, Hernandez netted 17 goals in 63 matches across all competitions for West Ham, ensuring the Hammers claimed a top ten finish last season after placing 13th during the 2017-18 campaign.
West Ham are set to receive close to £8m for the forward, who has featured in two Premier League games this season. Sevilla had earlier sent Wissam Ben Yedder to Monaco in a deal worth €40m.