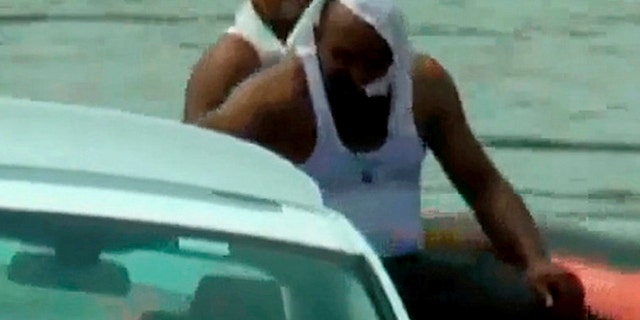 Residents said that he jumped out of the vehicle just before it reached deeper water and onlookers helped him to safety.
A young driver from India allegedly pushed the BMW he got from his parents into a river.
Hundreds of local men watched the recovery effort from the riverbank as heavy machinery was brought in to retrieve the vehicle. It is unclear if they managed to get the BMW out of the water.
Footage shared online in India shows the BMW slowly sinking beneath the surface of a river but despite the youth's best efforts to destroy the vehicle, it apparently re-surfaced after flowing into a small island on the river.
Akash shared a video on social media of his brand new vehicle floating away.
However, police said that the young man suffered from mental health issues and has been taking treatment for his "mentally disturbed" condition.
"Akash was unhappy with his father for not buying him (a) Jaguar", police said in a statement.
"He kept insisting that he be given a Jaguar, as a BMW is a little small for him and his friends inside", he said.
The Daily Mail reports the Indian man, known as Akash, was angry over receiving a BMW M3 because his mother and father knew he really wanted a Jaguar.
However, according to The Times of India, the father denied that his son had demanded a Jaguar, and claimed he had accidentally driven the BMW into the river when he swerved to avoid an antelope.