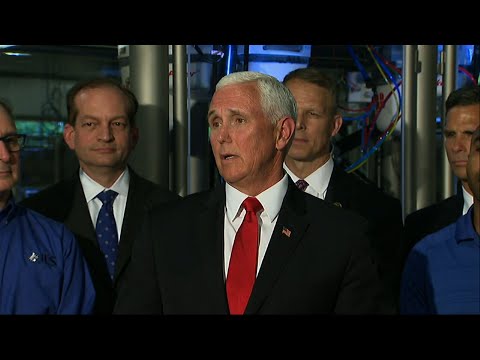 In a series of tweets, Mr Trump said tariffs due to be implemented on Monday would be "suspended indefinitely".
"Mexico, in turn, has agreed to take strong measures to....stem the tide of Migration through Mexico, and to our Southern Border".
Democrats lashed out in all directions at President Trump after he won concessions from Mexico to try to stop the flow of illegal immigrants at the border.
The United States and Mexico struck a deal on Friday to avert a tariff war, albeit one that fell short of some of the dramatic overhauls demanded by the Trump administration.
Trump, who ran for president pushing a tough line on immigration that included denouncing undocumented Mexicans as rapists, had vowed to raise tariffs as high as 25pc unless Mexico - which exports $350 billion in goods each year to the USA - takes further action against migrants.
A former director-general of the World Trade Organization (WTO), Pascal Lamy, said it was understandable that Mexico had sought to extricate itself from the tariff bind, but said Mexico ran the risk of more threats from Trump in the future.
Mexican Foreign Minister Marcelo Ebrard gets ready to talk to reporters as he leaves the State Department in Washington, June 7, 2019. More than 144,000 migrants were encountered or arrested at the US-Mexico border in May, US Customs and Border Protection said this week, a roughly 32% increase from the previous month and the highest monthly total in more than a decade. At the San Ysidro crossing alone, Mexico had been prepared to accept up to 120 asylum seekers per week, but for the first six weeks only 40 people per week were returned.
The talks had been focused, in part, on attempting to reach a compromise on changes that would make it harder for migrants who pass through Mexico from other countries to claim asylum in the U.S., those monitoring the situation said.
Under the terms of the new immigration agreement, Mexico will assist the United States in curbing migration across the border by deploying some 6,000 National Guard troops to its southern borders with Guatemala, Honduras and El Salvador.
Trump has made stopping illegal immigration a priority during his two years in office. Through June 5, 10,393 mostly Central Americans have been sent back to Mexico since the program started in January.
Lamy said he believed there was "absolutely no doubt" that the WTO would have found in favour of Mexico if Lopez Obrador had asked the trade body to arbitrate the tariff dispute with Trump, a process he said would have taken around two years for a definitive ruling. Mr. Trump's 5-per-cent duties would actually be higher than numerous tariffs that existed before that. They also made clear that Trump was dead set on the tariffs without dramatic action.
"From our perspective of where we are now, it is a result of them backtracking on significant commitments", Mnuchin said.
The Mexican government had pledged to deploy the National Guard nationwide with a focus on its southern border - a key part of Friday's agreement - during secret meetings in March between former Homeland Security Secretary Kirstjen Nielsen and Mexican interior secretary Olga Sanchez in Miami, the officials told the Times.
The document said that Mexico will also take "decisive action" to dismantle smuggling and trafficking operations, while both countries will increase cooperation to protect the border.