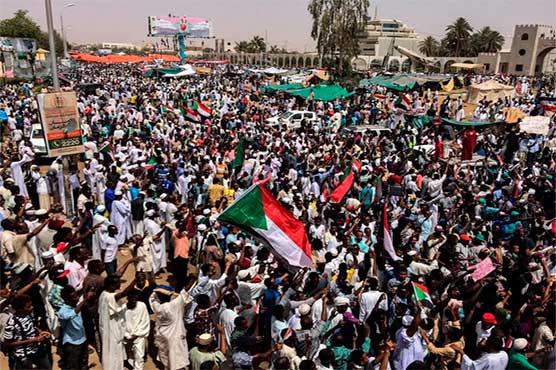 The council, which is now running Sudan under Defence Minister Mohammed Ahmed Awad Ibn Auf, said it expects a pre-election transition period it announced on Thursday to last two years at most or much less if chaos can be avoided.
The move follows calls by Amnesty International for Sudan to handover Al-Bashir to ICC.
He says al-Bashir is in custody but declined to provide more details.
He pledged the military would stay only as long as it's needed.
Ibn Auf took the constitutional oath in the capital Khartoum in a ceremony presided over by Chief Justice Abdul Majid Idris which was broadcast live on state television.
Protest organizers have vowed not to end their street action until a civilian transitional council is formed, saying rule by military commanders who for years were al-Bashir loyalists is just an extension of his regime.
Former Sudan's President Omar Hassan al-Bashir. To ensure a level playing field, members in the transitional government will not be allowed to contest the first presidential and parliamentary elections.
Mr Bashir has been indicted by the International Criminal Court (ICC) on charges of war crimes and crimes against humanity over that conflict.
"We, as a military council in our term, will not hand the president over overseas".
Ibn Auf said on Thursday that Bashir was being detained in a "safe place" and a military council - which it was later announced he is heading - would now run the country.
The State Department o fthe USA ordered the departure of non-emergency US government employees in Sudan following Bashir's ouster.
To hand over al-Bashir would be "an ugly mark on Sudan. even rebels carrying weapons, we won't extradite them", said Zein Abedeen, who has been tasked by the military to lead a political dialogue.
Since the appointment of Ibn Ouf as military council chief, the protesters had turned their anger against him.
Leading protest group, the Sudanese Professionals' Association, issued a statement rejecting the military's declaration, claiming its intervention "reproduced the same faces and institutions that our courageous people have revolted against".
Vehicle horns sounded on the streets as jubilant crowds streamed out of their homes to cheer the departure of Ibn Ouf, considered a regime insider and close aide of Bashir.
In 2010, during the promulgation of the new constitution, Al-Bashir arrived in Kenya, putting the government on the spot over its stand on human rights.
He said the council would meet on Friday with political entities to prepare a "climate for dialogue", but that was later postponed.
"Terrorist groups in Sudan may harm Westerners and Western interests through suicide operations, bombings, shootings and kidnappings", said the department. "The Sudanese people have been clear that they have been demanding a civilian-led transition".
But his apology fell on deaf ears among the protesters, who had repeatedly defied bullets and tear gas to keep up their sit-in before the army stepped in.