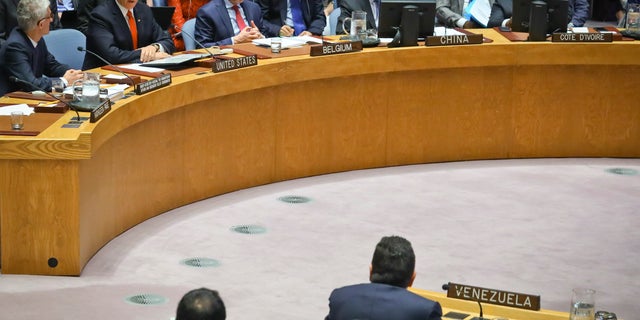 He added, the people of Venezuela are suffering and their economy has been destroyed under Maduro's regime.
U.S. Vice-President Mike Pence told the United Nations Security Council Wednesday that the Trump administration is determined to restore democracy to Venezuela, preferably through diplomatic and economic pressure, but that "all options are on the table" - and Russian Federation and others need to step aside.
United States Vice President Mike Pence, second from left top, looks at Venezuela United Nations Ambassador Samuel Moncada, bottom right, while addressing him directly during a meeting on Venezuela in the U.N. Security Council, April 10, 2019 at U.N. headquarters. Russia, China, Iran, Syria, and Cuba are among those backing Maduro.
On Wednesday, Pence said the USA was preparing a draft resolution which would see the United Nations recognize Guaido as president and replace the current Venezuelan ambassador with a new one, appointed by Guaido. It was not immediately clear if Pence was proposing a resolution in the 15-member Security Council or the 193-member General Assembly.
More than 50 countries have recognised Mr Guaido as Venezuela's leader.
The Trump administration has also strongly supported the leadership challenge by National Assembly President Juan Guaidó, who is recognized by the US and more than four dozen other governments as Venezuela's interim president.
"If you want to make America great again, and we're all sincerely interested in seeing that, stop interfering in the affairs of other states", Nebenzia told USA officials. "For the peace and security of our hemisphere, the world and the United Nations must stand with the people of Venezuela".
The International Monetary Fund will not have any contact with Venezuela, nor allow the country to access its reserves held by the institution, until the international community recognises a government in Caracas, an IMF spokesman has said.
At least 3.4 million Venezuelans have left the country over its humanitarian crisis, with the United Nations predicting this will rise to about five million by the end of the year.
Media Stakeout by Mr. Mike Pence, Vice President of the USA, on the situation in Bolivarian Republic of Venezuela.
"In Venezuela, there is a need to separate political and humanitarian objectives".
As part of a renewed campaign by the Trump administration to isolate Venezuelan leader Nicolás Maduro, Secretary of State Mike Pompeo categorized the socialist South American government a "true threat" to USA national security.