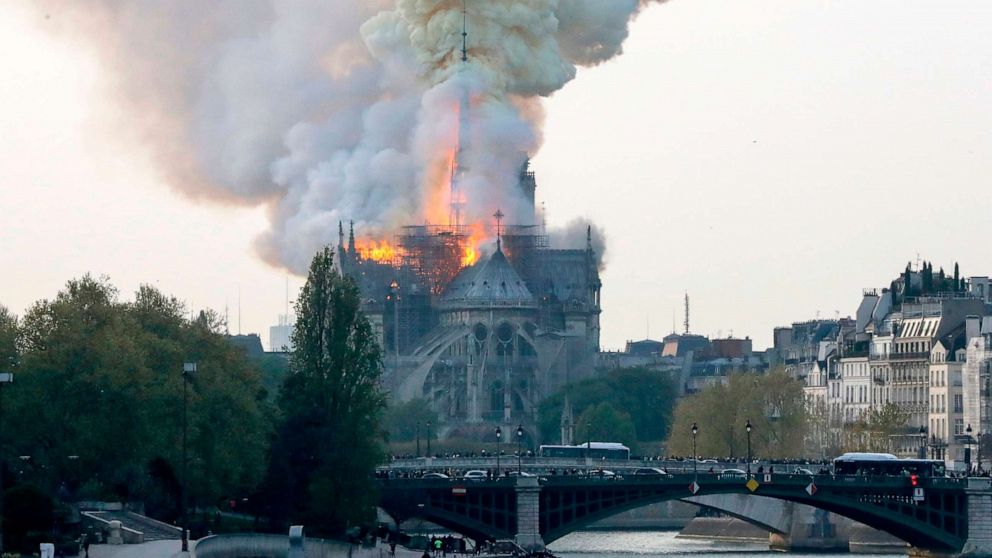 Flames were seen coming from Notre Dame Cathedral in Paris on the afternoon of April 15, 2019.
"Everything is burning, nothing will remain from the frame", Notre Dame spokesman Andre Finot told French media. The French president cancelled speech to nation, and rushed to the fire scene.
Horrified onlookers gathered below near the Seine River to capture video and photos of the fire.
Before the blaze, the church had been undergoing an extensive $6.8 million renovation.
Notre Dame Cathedral, one of the world's most famous churches, erupted in flames Monday in Paris.
The cause is not yet clear, but officials say that it could be linked to renovation work.
Ed Llewellyn, Britain's ambassador to France described the images of the burning Cathedral as "heartbreaking" adding, "All our thoughts with the heroic firefighters as they battle this bad blaze".
In 2012, the Archbishop of Paris and the Diocese of Paris founded "The Friends of Notre Dame" to raise funds for the structural deterioration, with renovation and fix efforts ongoing.
A cathedral spokesman has said the entire wooden interior of the Notre Dame is burning and likely to be destroyed. Out thoughts with all Catholics and French people.
The Associated Press is reporting that Paris police say the cause of the fire is unknown and no deaths have been reported.
"Built in the 13th century, the medieval cathedral is considered a feat of architecture as much as a religious symbol", CNN writes.
The mayor of Paris, Anne Hidalgo, described it as a awful fire and urged people to respect the boundaries set up by fire crews. "Heartbroken for Notre-Dame and Paris".
The New York Times reported that the cathedral's spire had caught fire, with alarms sounded around 6:30 p.m. on Monday. In the sanctuary, there's a statue of Madonna and Child - one of 37 representations of the Virgin Mary in the Cathedral - that dates back to the 14th century (though it was only moved to the Cathedral in 1818).
Smoke and flames rise during a fire at Notre Dame cathedral in central Paris.
A fire ripped through the famed Notre Dame cathedral Monday evening in Paris leaving people around the world in shock at the loss of the historic building. The cathedral is a worldwide Parisian icon and site of some of Catholicism's most important relics, including the crown of thorns said to have been worn by Jesus.