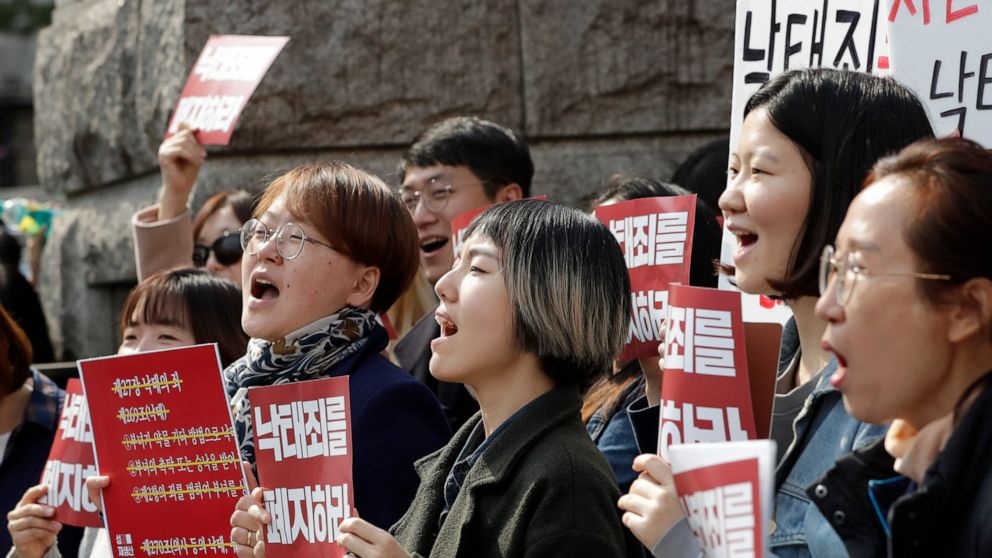 South Korea's Constitutional Court yesterday overturned a ban on abortion that has stood for more than 65 years, saying in a landmark ruling that the current law unconstitutionally curbs women's rights. The Constitutional Court had previously upheld the country's abortion regulations in a closely divided 2012 decision.
The nine-member panel ruled by seven to two that a 1953 law banning abortion was unconstitutional and ordered the national assembly to revise it by the end of next year. South Korea remains one of the few industrialised nations that criminalises abortion, except for instances of rape, incest and when the mother's health is in jeopardy.
The court ruled that the abortion ban infringes upon pregnant women's right to self-determination by assigning absolute priority to the protection of fetal lives.
"Embryos completely depend on the mother's body for their survival and development, so it can not be concluded that they are separate, independent living beings entitled to rights to life".
Hundreds of protesters from both sides of the debate gathered outside the court ahead of the ruling, separated by police. This judgment means that they should be carried out safely and legally, and that women and girls are treated with compassion and respect for their human rights and their reproductive autonomy.
However, the court added that the current law would remain in effect until the end of next year, after which it will be scrapped.
Pro-life activists shout slogans in front of the court in Seoul. "Abortion is a murder", said Kim Yeong-ju, a 47-year-old mother of two who demonstrated in favor of the ban.
The decision comes amidst the growing tensions between South Korea's growing movement for women's rights and the traditional social conservativism within the country, where the Christian church is a big influence.
Although prosecutions are rare, pro-abortion activists argue that the fear of jail time leaves women in a vulnerable position - unable to pay their medical bills or seek follow-up treatment. In 2017, more than 230,000 people signed a petition to legalise abortion.
Despite the restrictive law, abortions are widely accessible in South Korea and can be carried out safely.
"The article criminalizing abortion results in forcing pregnant women to bear physical and psychological burdens of maintaining pregnancies, physical pain and danger that giving birth entails, and also social and economic suffering", the court said in the verdict.
South Korea is one of only five OECD member states that do not allow such abortions, according to the Ministry of Gender Equality and Family. Only 1% said they had a legal reason to terminate their pregnancy. According to government records, there were only 15 indictments on abortion-related cases in 2013. It also said abortion would run rampant if not punished.
The South Korean public has been sharply split over on the abortion ban. Judges said they were concerned about the lack of laws governing abortion at different stages of pregnancy.