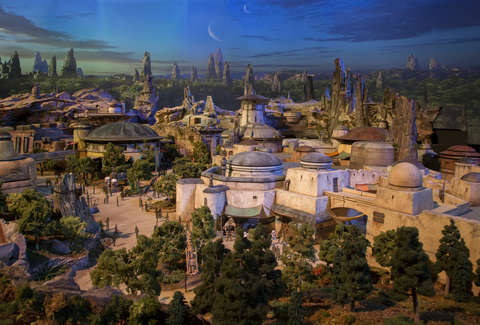 The opening date was announced Thursday at the Walt Disney Co.'s annual shareholder meeting, along with the earlier opening of Star Wars May 31 at Disneyland in California.
Park visitors who stay at one of Disneyland's own hotels during that time will automatically receive one reservation for each guest.
While fans will be able to visit the new theme parks a bit earlier than expected, it's worth nothing that not all rides will be up and running when doors open.
This rendering released by Disney and Lucasfilm shows people on the planned Star Wars: Rise of the Resistance attraction, part of Star Wars: Galaxy's Edge. But it comes with a trade-off: Rise of the Resistance, which Disney describes as "the most ambitious, immersive and advanced attraction ever imagined", won't open until later this year at either park, on a date not specified.
Iger said that the park will open at Disneyland on May 31 and at Walt Disney World on August 29. When the lands first begin inviting customers to visit the galaxy far, far away, they will do so with only one of the two big attractions operating.
The theatrical launch of the still-untitled final Star Wars installment will also be accompanied by the debut of spinoff series The Mandalorian on the forthcoming subscription service Disney+.
Galaxy's Edge opens in California on 31 May, while the Florida location will swing its gates wide on 29 August. You won't be buying ordinary Star Wars merchandise or T-shirts at the gift shops, but rather special figures and vehicles (like an AT-AT) built by Batuu's female Toydarians.
The land is opening in phases so that guests can sooner enjoy the unique, out-of-this-world experiences that will only be found at Star Wars: "Galaxy's Edge".
Stay tuned for details about Star Wars: Galaxy's Edge.
At that time, guests will be immersed in the planet Batuu, where they can interact with unusual characters, shop and dine at interplanetary hot spots, and partake in a new ride called Millennium Falcon: Smugglers Run.