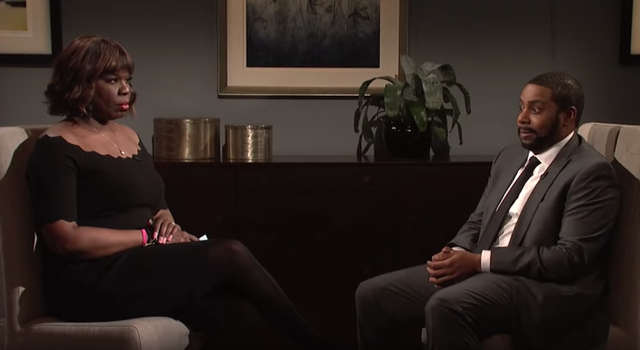 Roberts said that she was allowed to press and challenge Smollett on details that were not clear with his story. Now, three of the women who accused R. Kelly of abuse have spoken out in a new segment from CBS This Morning. During the interview, Kelly lashed out dramatically at his interviewer, Gayle King, screaming and pounding his fists, as she asked him pointed questions about the sexual abuse allegations he is now facing and those he has faced in the past.
She saved the interview by remaining seated, maintaining eye contact, and giving him a moment to calm down.
During her appearance on The Late Show Thursday night, the CBS This Morning host talked to Stephen Colbert about the awkward incident, in which Watters was attempting to praise King's recent interview with R. Kelly, who is facing 10 counts of sexual abuse charges. "So many people started sending this to me, because I normally don't watch Fox News, unless I'm just curious to see what's going on and what other people are thinking".
"I agree, hats off to Gayle King for totally redeeming herself after the Smollett fiasco". After he was corrected, Watters said, with even more cringe-worthy confidence, "Oh, I knew that".
Dana Perino: "That was not Gayle King.Robin Roberts did the Smollett interview". Instead, she said, "I thought we were witnessing the self-destruction of a man having a breakdown, and that's never a good thing to see". After the charges were filed, Roberts interviewed Chicago Police Superintendent Eddie T. Johnson about the investigation that led to authorities becoming convinced the whole thing was a hoax.
Williams: Go right ahead, Jesse.
"We sincerely apologize to Aretha Franklin's family and friends", a statement said.
The interview was Smollett's first detailed public account of the alleged attack. I've never received any funds from R. Kelly.
Smollett turned himself in one week after the brothers came forward saying the attack was planned.
Roberts later spoke about the hesitation she felt before that interview, noting she had doubts as to whether she should do it in the first place.