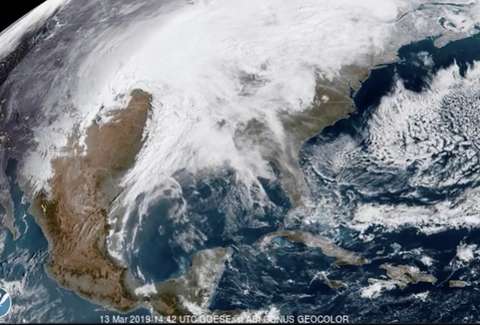 "'We call storms that drop 24 millibars in 24 hours a bomb, a bombogenesis, the beginning of a cyclone.' The more technical (and less eye-catching) term is a baroclinic midlatitude cyclone".
The weather service said the precipitation will be a wintry mix of rain and heavy snow, but the type depends on the location. A drop in the barometric pressure generally accompanies "bad weather": wind, thunder, snow and rain. By Friday the storm will hit Tennessee and parts of MS and northern Louisiana where as much as 4 inches of rain could fall and tornadoes are expected. More than 55 people million are under a high wind threat; more than 10 million are under winter storm threats; and more than 17 million are under a flood threat.
The National Weather Service posted a GIF on Wednesday showing the system shaping up.
"We expect a major blizzard to unfold with winds likely to approach hurricane force, heavy snow and massive drifts", AccuWeather senior meteorologist Alex Sosnowski said.
In the Denver area, blowing snow could cause risky blizzard conditions.
Additional snowfall from 2 p.m.to midnight will be more than 6 inches for Denver to Limon and Denver to Monument. The National Weather Service has issued high wind and winter storm advisories for an area ranging from Colorado and New Mexico over to Nebraska and parts of Texas, and up to South Dakota. Northern Utah will see the heaviest amount of snow in the morning.
Airlines operating out of Denver International Airport already have canceled Wednesday flights based on the forecast of a blizzard.
According to the Weather Prediction Center blizzard warnings cover parts of seven states.
The storm was expected to keep intensifying Wednesday in the Central Rockies, push eastward through the Central Plains Wednesday and into the Upper Mississippi Valley and Upper Great Lakes region Thursday.
'The heavy snow and visibility near zero will create extremely risky travel conditions, and power outages are also possible'. By early afternoon, more than 9 inches of snow had been reported west of Boulder, and winds gusting above 50 miles per hour were whipping through central portions of the state. CBS Denver reporter Jamie Leary documented how the wind almost blew her - as well as her selfie stick - away when she exited her news van.