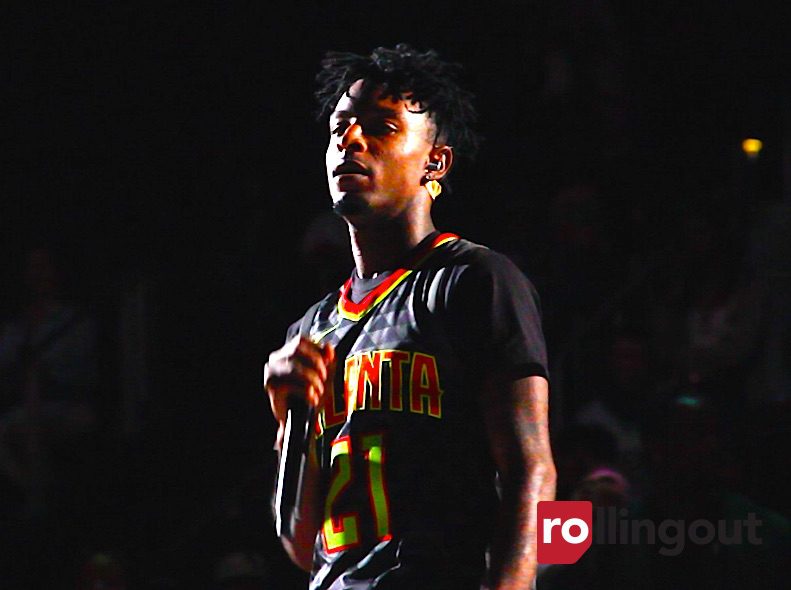 On Wednesday, XXL reported that Jay-Z went a step further and through his entertainment company, Roc Nation, his team is offering legal support to Abraham-Joseph.
The 26-year-old rapper, who is nominated for two awards at the Grammys next Sunday, was driving in a reckless manner and had a loaded Glock handgun in the glove compartment at the time of his arrest last weekend, it was revealed today.
Abraham Joseph also known as 21 Savage apparently entered the US legally in 2005 but his visa expired and he reportedly is here illegally according to reports.
The rapper, whose real name is She'yaa Bin Abraham-Joseph, was arrested on Sunday amid allegations he's a United Kingdom national who has been living in America since 2005 without the correct paperwork, and he has been detained by Immigration and Customs Enforcement (ICE) ever since and threatened with deportation. Brian Steel, 21's lawyer, clarified that neither the gun or the vehicle he was driving in belonged to the "A Lot" rapper.
"In addition to being a successful recording artist, 21 deserves to be reunited with his children immediately."
"We are not going to stop until he is released, bonded out or in front of a judge ..."
Abraham-Joseph is an "unlawfully present United Kingdom national" who came to the USA in July 2005 on a visa that expired a year later, Cox said.
Abraham-Joseph is the father of three children born in the US and is known in his longtime home of Atlanta for supporting local community projects, such as an annual school supply giveaway at the beginning of the school year. Unfortunately, in 2006 Mr. Abraham-Joseph's legal status expired through no fault of his own.
On Tuesday, an ICE spokesperson told Reuters that Abraham-Joseph faces deportation proceedings in a federal immigration court. "These "Dreamers" come from all walks of life and every ethnicity". He was convicted of drugs charges in 2014.
ICE spokesman Bryan Cox said on Sunday that the rapper was put in deportation proceedings because he has been living in the United States illegally since 2006 and has a felony conviction.