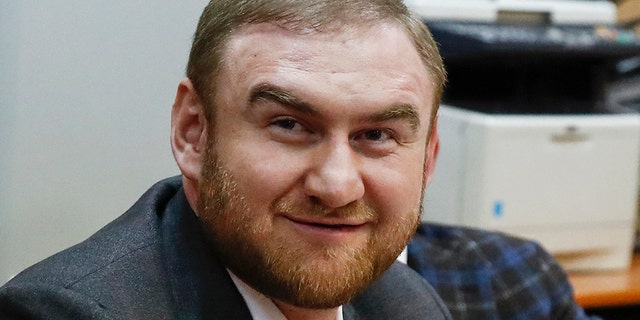 A Russian lawmaker suspected of contracting two murders was detained on Wednesday at the Russian parliament in front of stunned deputies after he tried to escape but was stopped by the parliament speaker.
He was charged with murder, tampering with witnesses and being involved in organized crime, the newspaper said.
Rauf Arashukov, who represents the Karachaevo-Cherkessiya region in the North Caucasus, was detained Wednesday morning after the Federation Council, the upper chamber of the Russian parliament, voted to strip him of immunity from prosecution.
Rauf Arashukov was on the senate floor when police officers entered and read out a warrant, according to senate speaker Valentina Matviyenko. Arashukov had reportedly tried to leave the assembly hall before Matvienko ordered him to "sit back down". "It's up to the regions who they send to the Federation Council", she said.
During questioning, Arashukov said that his Russian was not good enough and asked for a translator, Investigative Committee spokeswoman Svetlana Petrenko said, adding that the request was granted. According to the Russian news outlet RBK, at least three people suspected or convicted of involvement in the killings have claimed Arashukov was behind them, but he has denied it.
- The Investigative Committee's video showed Arashukov smiling during talks with his attorney.
Arashukov is suspected of orchestrating the killing of a well-known activist and an adviser to the leader of Karachaevo-Cherkessiya in 2010.
Later, his father Raul Arashukov was also arrested on suspicion of embezzling natural gas worth over 30 billion rubles ($455 million) from Gazprom.
Shebzukhov was beaten with a baseball bat and fatally shot in May 2010, and Zhukov was shot dead in March of the same year.
Russia's senior prosecutor attended the plenary session and unexpectedly made the case for the arrest of 32-year-old Rauf Arashukov.
Arashukov has served in the Federation Council since 2016, after working for Gazprom subsidiaries in Stavropol and Karachay-Cherkessia.