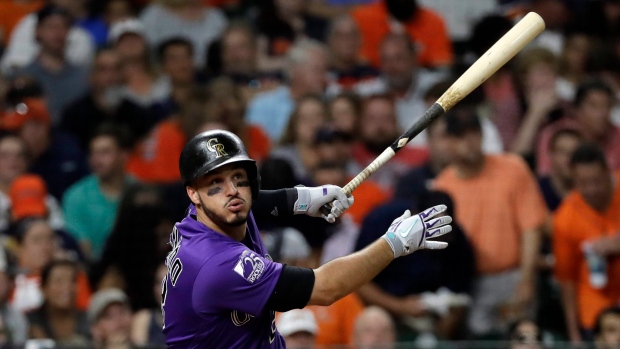 The Rockies avoided arbitration with All-Star third baseman Nolan Arenado after agreeing to a deal on Thursday, the club announced.
Settling near the middle bested the previous arbitration record, set past year by third baseman Josh Donaldson and the Toronto Blue Jays at $23 million. Sources told ESPN and the MLB Network the deal is worth $26 million, a record via the arbitration process.
Arenado earned $17.75 million in 2018.
After Arenado reportedly requested $30 million and the Rockies offered up $24 million, the two sides managed to settle on $26 million as a compromise.
It was reported by Saunders recently that the Rockies and Arenado were likely to go arbitration in this article. Some hearings started this week as the Houston Astros started their hearing with their shortstop Carlos Correa today, according to Jake Kaplan of The Athletic.
Arenado's deal came after a several hours-long face-to-face meeting between Arenado, his agent Joel Wolfe, Rockies general manager Jeff Bridich and owner/CEO Dick Montfort, Rosenthal adds. The Rockies still hope to work toward a multi-year contract with the All-Star third baseman.
The number is a record deal ... and Arenado certainly deserves it.