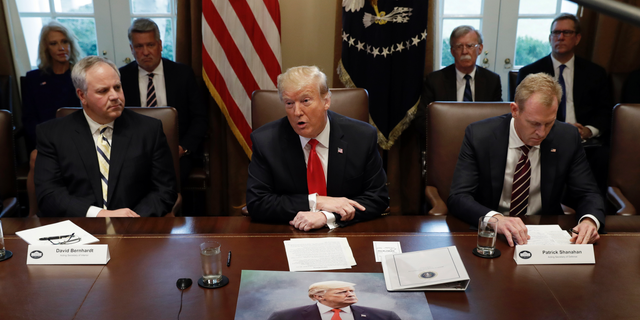 Firstly, there is an argument that the wall in Game of Thrones serves a objective.
Even without the Game of Thrones font, the phrase "Sanctions are Coming" is an obvious reference to the "Winter is Coming" tagline that HBO has used for the series, describing the harsh conditions set to descend upon the inhabitants of Westeros.
Brace yourselves: "The wall is coming".
HBO was not amused back in November, responding to Trump's "Game of Thrones" reference by asking on Twitter how one would say "trademark misuse" in Dothraki, one of the languages in the show.
With the federal government shutdown nearing its third week - and no imminent end - President Donald Trump took to Instagram where there, at least, he could imagine that "the wall is coming".
The image was shared shortly after Trump made a surprise appearance in the White House briefing room, where he made another pitch for Congress to provide funding for the wall. I've never seen it in my life, sorry.
In uncharacteristically warm words for Pelosi, one of his frequent targets on Twitter, he congratulated her on her "tremendous, tremendous achievement" after Democrats won 40 House seats in November elections. "And I know they want to do that very badly", Trump said.
The president is now locked in a battle with Democrats in Congress over funding for the U.S. -Mexico border wall, a standoff which has led to a government shutdown.
Trump campaigned in 2016 on building a "big, attractive wall" on the border with Mexico.
"Without a very strong form of barrier - call it what you will - but without a wall, you can't have border security".
In a statement to BUSINESS INSIDER at that time, an HBO spokesperson said the network does not support Trump using the show for political gain and was "not aware of this messaging and would prefer our trademark not be misappropriated for political purposes".