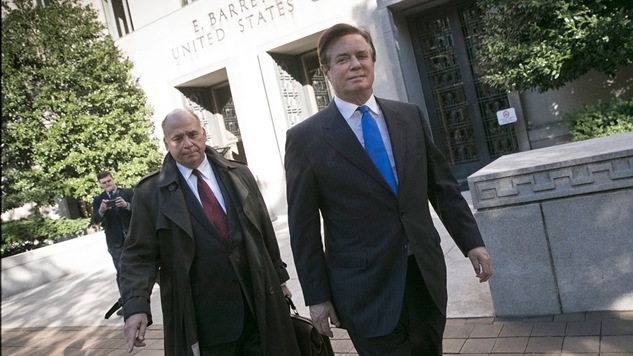 Parts of a court filing that were meant to be redacted by Manafort's legal team, were released publicly on Tuesday, CNN reported.
The allegation relates to Manafort's association with Konstantin Kilimnik, a Russian political consultant who worked for Manafort on campaigns in eastern Europe. A new court filing says Manafort is suspected of having shared polling data with a business associate who has links to the Russian intelligence service.
Previously, the special counsel's office outlined five areas in which they believe Manafort lied, including about his contact with Kilimnik, who is of interest to the Mueller investigation, and about his communication with White House officials as recently as past year, but redacted some details of what they know and how they know it. In one portion that was redacted, they said the text related to a "message from a third-party asking permission to use Mr. Manafort's name as an introduction in the event the third-party met the president".
In February 2017, Kilimnik told RFE/RL that he had done many things while advising Manafort, including work on a proposed a peace plan, but he suggested Manafort wasn't involved - a claim that was undermined by the January 8 court filing.
The disclosure suggests that one part of Mueller's probe is focusing on whether Kilimnik may have served as a back channel through Manafort to Russian Federation during the election.
Image copyright Reuters Image caption Manafort managed the Trump campaign for five months in 2016, during the time Mr Trump clinched his party's nomination What did we learn from the documents?
According to the unredacted versions posted online, the blacked-out sections showed that Manafort has been accused by Mueller of lying about his sharing of polling data on the 2016 campaign with Kilimnik.
Manafort's lawyers argue in the filings he did not break his plea deal because he did not lie intentionally.
The former Trump campaign chairman on Tuesday denied in a filing that he broke his plea deal by lying repeatedly to prosecutors working for special counsel Robert Mueller about that and other issues. Manafort has "suffered from severe gout and is suffering, at times confining him to a wheelchair", the court papers say. There are two known meetings during the campaign between Manafort and Kilimnik.
Manafort has been in jail since June 2018, after prosecutors accused him of attempting to sway witness' testimony against him while he was under house arrest.
U.S. District Judge Amy Berman Jackson demanded in a December 11 hearing that prosecutors provide more details to allow her to determine whether Manafortfailed to fully cooperate as required under his deal, and should face tougher sentencing.
Manafort's lawyers responded that any such conversation did "not constitute outreach by Mr Manafort to the President" and said the prosecution's second example was "hearsay". But the data could have provided Russians with insights on the USA election.
U.S. District Judge Amy Berman Jackson had given Manafort's lawyers until Monday to make a decision.
Manafort has pleaded guilty to conspiracy charges in Washington and faces sentencing in a separate case in Virginia. Manafort's filing sheds little light on that transaction.
Manafort has always been in the crosshairs of the Mueller team, having been charged early on in the Russian Federation investigation.