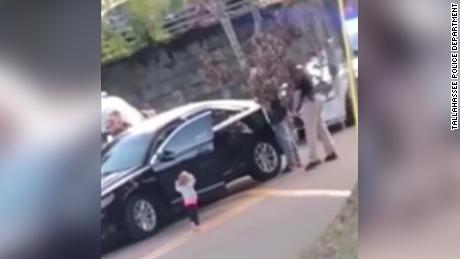 A 2-year-old child has been filmed walking towards armed U.S. police officers with her arms up, after her parents were stopped on suspicion of shoplifting.
'She's trying to get out but she can't because she's little, ' said the person filming the video. She eventually gets out of the truck and begins walking towards police with her hands raised, which police say was her "imitating" her parents. Oh my God, look at that.
Officers were in the process of arresting Chad M. Bom and James W. McMullen on suspicion of shoplifting at the time of the incident.
Tallahassee officers responding to a reported theft by an armed man on January 17 pulled over a suspect's truck, police said.
The story was later revealed, thanks to more videos that came out from a Florida police officer's body camera.
Police allowed a woman, reported to be the child's mother, to hold her and the other child as they dealt with the situation.
The video compilation, posted on Facebook by the police department, shows a snippet from a witness' video, then the chief of police addressing the incident, along with body camera footage showing the officers' actions during the traffic stop.
Despite the negative reaction on social media, DeLeo said the officers acted appropriately.
In the body camera footage, an officer was seen assuring the toddler saying she was fine and asked her to put her hands down.
With police still aiming their firearms square at the ute, a tiny girl slowly slides out of the vehicle.
There was a 1-year-old who remained in the vehicle, strapped in a auto seat that was improperly installed.
"He's holding a gun at the baby", a woman was heard saying in the video.
In the body cam footage the man reportedly replies: 'No sir, ' the man replies. "Just my two-year-old daughter and one-year-old son".
Police found a pellet gun in the back of the pick up truck.
Looking inside, the officer notices the infant child in the vehicle seat and allows the mother to help the baby, while another officer holds the two-year-old.
DeLeo added the video made him "proud of how our officers handled the situation, how they adapted when they became aware of the children and the level of concern and compassion they showed to the family".