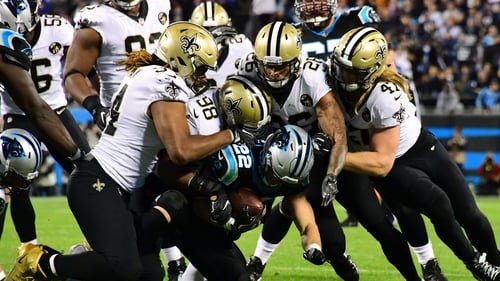 Drew Brees and his offense didn't have the most explosive outing Monday against the Panthers, but it was still a significant win for the quarterback and coach Sean Payton. After Cam Newton worked the ball into the red zone to put Carolina in field goal range, he made a pass that was intended for receiver Devin Funchess in the end zone but cornerback Eli Apple got to it first for the interception. Alvin Kamara had 103 yards from scrimmage and a touchdown, and Brees had 203 yards passing for the Saints (12-2), who took a one-game lead in the NFC over the Rams.
The Panthers saw multiple opportunities to capitalize on their strong defensive effort thwarted by turnovers.
Wil Lutz was true with the boot from 46 and 24 yards as the Saints went into the half 7-6 down.
The Panthers were desperate to pull off a win just to have any hope at all of staying alive for the playoffs.
However, the Panthers would end up losing the game to the Saints. If they hold serve in the Superdome, they won't play another road game this season, which will give them ample opportunity to find their rhythm again.
McCaffrey's heroics aside, the Panthers (6-8) have lost six straight contests and are all but eliminated from playoff contention.