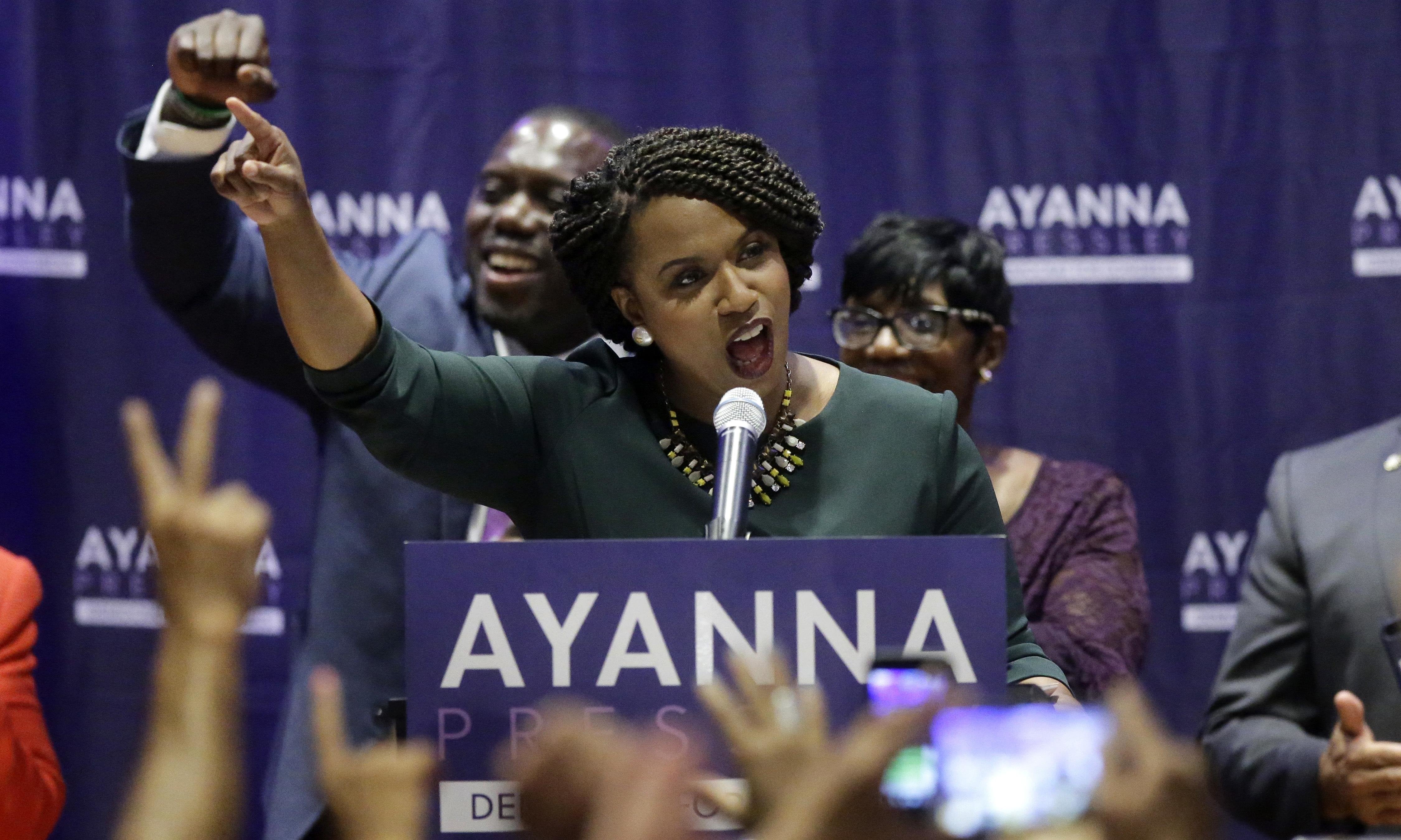 The Democrats may not have gotten quite the blue wave they were hoping for ー but for women in politics, Election Day was an indisputable success. Although there are still crucial votes to count, Democrats have secured the House of Representatives for the first time in nearly a decade while the GOP retains control of the Senate. Candidates like Abigail Spanberger and Jennifer Wexton in Virginia, Mikie Sherrill in New Jersey, and Angie Craig in Minnesota helped the party win Republican-held seats in the suburbs.
A record number of women were elected to the US House on Tuesday, almost two years after women spilled out into the streets of Washington and in cities across the country in defiance of the inauguration of President Donald Trump.
Michigan's Rashida Tlaib and Minnesota's Ilhan Omar are the country's first Muslim women in Congress. Ayanna Pressley is Massachusetts' first Black congresswoman.
Democrat Ilhan Omar will serve as the nation's first Somali-American Congresswoman.
She is one of a handful of congressional candidates this year who identified as democratic socialists.
At 29, staunch left-winger Alexandria Ocasio-Cortez is the youngest woman ever elected to Congress and one of the youngest members ever.
Sharice Davids, congresswoman-elect for Kansas' 3rd district.Deb Haaland, congresswoman-elect for New Mexico's 1st district.
Before Tuesday's elections, women made up a record 20% of Congress - 23% of the Senate and 19% of the House.
"Don't expect women to sit back and talk about birth control and reproductive rights as women's issues". Tlaib, a former member of the Michigan House of Representatives, faced two opponents in the race: Green Party candidate D. Etta Wilcoxon and Working Class Party candidate Sam Johnson.
In the first major race called Tuesday night, Lou Leon Guerrero was elected as Guam's governor, becoming the first woman to do so.
"I urge you to work for a better future long after tonight", Sherrill said before a thunderous crowd that included dozens of women who had spent months canvassing and phone banking. But Trump, who has been accused of sexual assault and harassment by a dozen women, fiercely defended Kavanaugh, to the delight of his most loyal supporters.
Veronica Escobar and Sylvia Garcia won House races in Texas, making them the first Latina women to ever represent the state.
"This isn't just the year of the woman, this is the year of every woman", said Cecile Richards, who served as the president of Planned Parenthood for more than a decade, noting the groundbreaking diversity among the women running for office this year.
Tennessee gained the state's first woman in the Senate as Marsha Blackburn defeated former Gov. Phil Bredesen. She will represent a district that includes parts of Queens and the Bronx in New York City. The data showed that this year, white women split their vote between Democratic and Republican candidates for the House, but they preferred Republican candidates in 2010 and 2014.