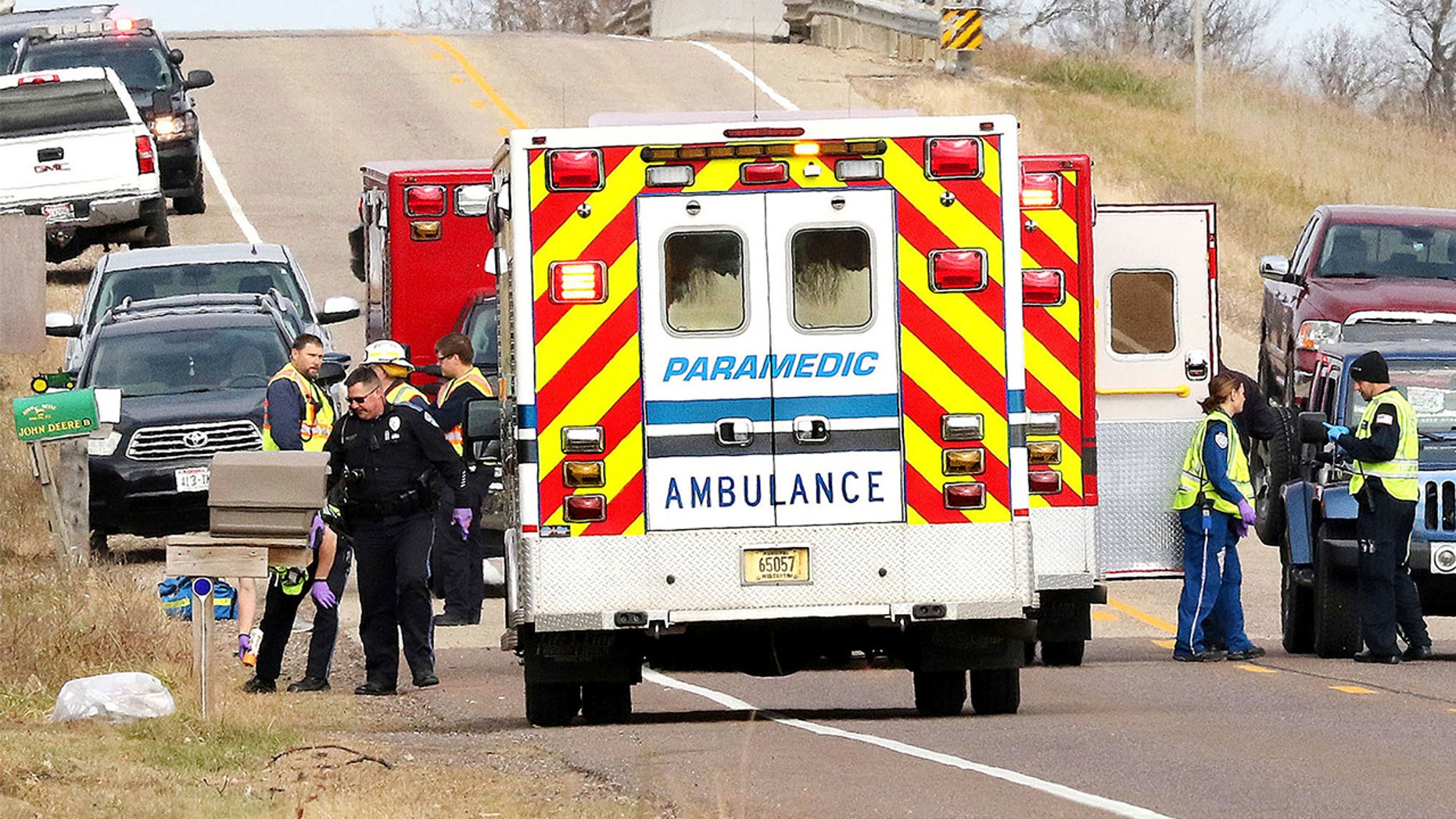 (Press Release - Lake Hallie Police Dept.) - On November 3, 2018 at 11:41AM, the Lake Hallie Police Department took a report of a hit and run accident involving multiple subjects. Sokup said the crash happened before a hill and there were no blind spots.
Treu was being held in the Chippewa County Jail on 13 possible charges, including four counts of intoxicated use of a motor vehicle, Chippewa County Sheriff's Sgt. Robert Jensen said. One juvenile female remains in critical condition at this time.
Sergeant Daniel Sokup of the Lake Hallie Police Department said a black Ford F-150 pickup truck veered off the road and careened into the group, killing three girls and a woman.
The pickup truck left the road and struck the Girl Scout troop in the ditch.
- Authorities say the driver accused in a deadly hit-and-run crash with a Girl Scout troop that was picking up trash on the side of the road near Eau Claire, Wisconsin Saturday was allegedly "huffing" chemicals prior to the crash.
Hundreds of community members gathered outside an elementary school in Chippewa Falls, Wis., on Sunday night to remember three Girl Scouts and a parent who were killed in a hit-and-run crash over the weekend.
"The area is not an unsafe area", he added.
Two other scouts were injured in the crash - one was airlifted to a hospital and is in critical condition.
Teddy bears, flowers, and candles were placed on benches outside Halmstad Elementary School in Chippewa Falls, Wis., on Sunday, as a memorial to the three Girl Scouts and a parent who were struck and killed by a driver who fled the scene the day before.
Lake Hallie police said Monday that the deceased were: 9-year-old Jayna Kelley and 10-year-old Autum Helgeson, both of Lake Hallie, and 10-year-old Haylee Hickle and her 32-year-old mother, Sara Jo Schneider, from the Town of Lafayette.
The driver, 21-year-old Colten Treu, later surrendered to authorities after police launched a search for the vehicle. A phone number for Treu could not immediately be found, and it was unclear if he has an attorney.
"Our hearts are broken", said Sheri Jasper, board member of the Girl Scouts Northwestern Great Lakes.
"We're going through a storm as girl scouts and as a community", said Chippewa Falls mother and former Girl Scout, Tricia Voigt.
Girl Scouts sang songs in memory of the victims, who were members of Troop 3055. "The Girl Scout Movement everywhere stands with our sister Girl Scouts in Wisconsin to grieve and comfort one another in the wake of this bad tragedy".
The Girl Scouts were cleaning up rubbish in a grassy area between the rural road and a farm near the Hwy.