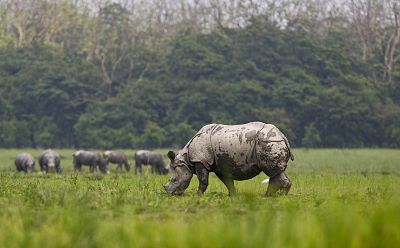 China had originally banned the use and trade of tiger bones and rhino horns after joining the Convention on International Trade in Endangered Species of Wild Fauna and Flora (CITES) in 1993.
Rhino horns and tiger bones used in medical research or in healing can only be obtained from farms, not including those raised in zoos, while powdered forms of rhino horn and bones from dead tigers can only be used in qualified hospitals by qualified doctors recognised by the State Administration of Traditional Chinese Medicine.
Commercial tiger farms in China are legal, and although using tiger bones in medicine was banned, tiger parts from these farms often end up being made into tonics or other medicines, animal rights groups say.
The regulations said that trade of rhinos, tigers and their related products was illegal, except for a handful of purposes, including medicine, scientific research and "cultural exchanges".
"The resumption of a legal market for these products is an enormous setback to efforts to protect tigers and rhinos in the wild", Margaret Kinnaird, of the World Wildlife Fund (WWF), said in a statement on Monday.
The council said that horns and bones - which have always been used by practitioners of traditional Chinese medicine - can only be obtained from farmed animals.
Calling the move a "too great a gamble for China to take", the WWF said that the government's decision to reverse the ban seemed to contradict the leadership the country has shown recently in tackling the illegal wildlife trade, including the closure of their domestic ivory market.
"China's experience with the domestic ivory trade has clearly shown the difficulties of trying to control parallel legal and illegal markets for ivory", she said. Chinese demand for ivory is also blamed as a driver behind the slaughter of African elephants, despite Beijing banning all trade in ivory starting from this year.
Up to 6,000 captive tigers, meanwhile, are estimated to be in held in about 200 government-sanctioned farms across China.
Many Chinese believe that rhino horns and tiger bones can cure a variety of ailments ranging from gout to cancer and fever to arthritis.
The EIA called the overturning of the ban a "brazen and regressive move which drastically undermines worldwide efforts for tiger and rhino conservation".
According to a National Geographic report previous year, there are far more captive tigers in China than in the wild.
Chinese state media claimed that the move would actually benefit animals by improving the monitoring of the trade.
Chinese officials state it will support traditional Chinese medicine.
Though numbers have increased from 2010 - up from about 3,200 to almost 3,900 - the figure represents a dramatic population decrease from a century ago, when an estimated 100,000 tigers roamed free.
Iris Ho, senior specialist for wildlife programme and policy at Humane Society International, warned: "With this announcement, the Chinese government has signed a death warrant for imperilled rhinos and tigers in the wild who already face myriad threats to their survival".