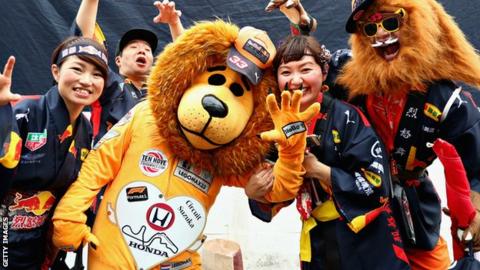 Lewis Hamilton laid down the marker by posting the fastest times in the opening two free practice sessions of the Japanese Grand Prix on Friday making him the overwhelming favorite to win the race Sunday.
But the reigning world champion, who leads his Ferrari rival by 50 points with five races left this season, survived a close shave in the morning session at Suzuka when he deftly avoided smashing his Mercedes into Pierre Gasly's Toro Rosso. Although overcast on Friday, the conditions for practice remained cool and dry - which might not be the case over the rest of the weekend. And the British racer's time was again nearly half a second faster than teammate Bottas in second and over eight tenths faster than title rival Sebastian Vettel.
"I love this track, it's my favourite track in the world, so I'd better enjoy it and not spoil it by starting to count the things that are against me and focus on the things that are working for me".
Ferrari no longer appears to have the advantage it once held over Mercedes in qualifying, meaning the team has often had to look to race strategy to find a way past Hamilton on Sundays. Straight away I was much, much better than I've ever been through those particular corners.
"We need to keep pushing and try", the Ferrari driver said.
"There's very little room for run-off", said Hamilton, who has won three times at Suzuka and four overall in Japan. "So I wasn't expecting that", Hamilton said after the day's action.
"I'm just loving driving more than ever; when you get in the vehicle, it's just the best, it's so fast and I'm so grateful to have the opportunity to do what I do". We've got good data on the tyres from today but it is never easy to predict exactly how they will behave on a much warmer track.
"As the season progresses you hope that you can improve, and usually you do get better, but I didn't know I was going to improve in the way that I have".
Channel 4 will also show the race live, but if you do not fancy getting up ay the crack of dawn then a full race replay will be broadcast from 12.30pm. "We focus on our work and we try to squeeze everything that is left in the auto".
"The battle with Ferrari remains extremely close, as was underlined by Sebastian's pace on Sunday and the pressure he put us under", Wolff said.
Jean Todt, the Ferrari team boss at the time and now the FIA president, recalls that moment as his best in the sport. "There is a little bit to squeeze out of the vehicle and myself, I'm sure".