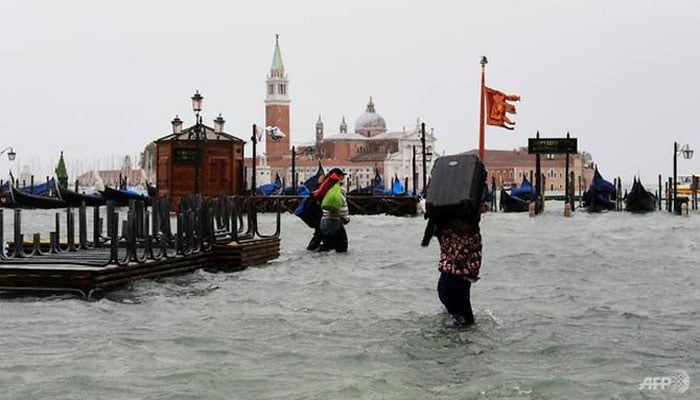 According to Reuters, two young people died south of Rome and another was killed in Terracina.
By Monday tourists and residents alike donned high boots to navigate the streets of Venice after strong winds raised the water level 156 centimetres before receding.
Italy's Civil Protection agency said the last person to have been found dead was a surfer in the Adriatic sea town of Cattolica.
The other fatalities occurred in Naples, Liguria, Lazio and Veneto, where authorities found a 61-year-old man whose body had been swept more than a kilometer (half a mile) away from his auto. The rest of Italy experienced flooding and heavy winds that toppled trees and other objects, killing six people.
Water transport services were halted across Venice as 75 per cent of the city centre flooded to 156cm (61inc) by early afternoon, the highest level since 2012.
The water level has only reached above 150 centimeters five times since records began, most famously in 1966, when it hit 194 centimeters and devastated the historic city center. If the tide levels are verified, the reading will be the highest since December 1979. However, in case of exceptionally high sea levels, it might go in reverse.
Shopkeepers were seen dispelling flood waters from their shops using buckets and water pumps.
On Sunday, as floodwaters rose, the Venice Marathon was taking place.
Tuesday's high tides are not expected to be as severe, but will still be at least 110 centimeters and potentially higher if the winds continue to blow. The victims also included a woman who was buried by mud when a landslide invaded her home near Trento in northern Italy and a man who was slammed against rocks while wind surfing in Emilia-Romagna. Rome issued an adverse weather alert warning of widespread rainfall, strong winds and violent storms in exposed coastal areas of the Lazio region.
Much of Italy is under alert for flooding from heavy rains, a problem exacerbated by a lack of maintenance of river beds.
Schools and tourist sites have closed in several regions after fears for people's safety. Further south, the ancient Roman city of Pompeii was shuttered because of the blustery conditions.