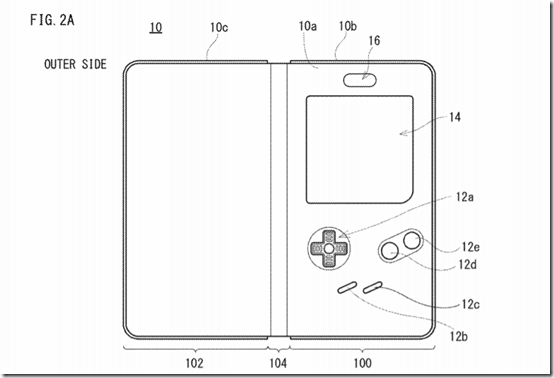 The company has apparently looked at producing a Game Boy-like case that would turn your mobile device into a working version of the classic handheld console, complete with D-pad, buttons, the whole thing.
That said, the patent registered by Nintendo presents the design of a housing that covers the electronic device and in the part that corresponds with the screen which is superimposed with a front panel similar to the original Game Boy, including buttons.
Nintendo filed a United States patent for a Game Boy-style phone case in March 2018.
The patent was filed on March 16, 2018, showcasing a smartphone clipped into the back of a foldable hard casing in the style of a Game Boy. Nintendo could simply isolate the best-selling mobile devices and cater towards them, much like phone case-makers do, or partner with a major phone case company to release the device.
Although the patent images show only a mobile device, the product description indicates that the case may not be intended exclusively for this objective.
A window would let owners view a Game Boy-sized portion of their screen, and as you might've guessed, that's where games would be displayed. For example, every smartphone is a different size so how does the Game Boy case cope with that? The L and R buttons featured on the Game Boy Advance are not present.
If a patent recently filed in the U.S. by Nintendo is any indication, Gameboy games might officially come to your iPhone in the future. However, a recent patent filed by Nintendo hints at an exciting future for smartphone gaming. Dragalia Lost and Fire Emblem Heroes were built to take specific advantage of smart phones. What remains to be seen is whether Nintendo will launch a variety of cases to support these popular titles.