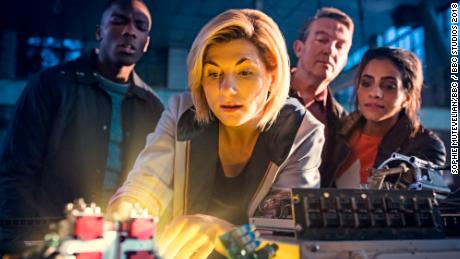 The series opener garnered a 40.1% audience share for the BBC in the U.K. After the episode came to a close, an extended preview of upcoming installments revealed glimpses of new guest stars who will appear throughout the ten-episode run. However, others were delighted with Jodie's Northern accent, with one tweeting: "One of amusing things to me about what people dislike about the new Doctor is the accent".
When Yasmin refers to her as "madam", Whittaker's Doctor ask: "Why are you calling me madam?"
If the show carries on in this vein, it's going to be one hell of a season.
The first episode of season 11 aired on British TV following its move from Saturday nights. I don't feel like my gender is something I think about until it is referred to by someone else... "This show needed a major change, and that's what she brings". The new companions were fleshed out to such an extent that a particular shock late in the episode felt genuinely tragic, a feat that is particularly impressive for a script that also had to dump enough Who-lore to pull in new viewers. Naturally, she also comes with her distinctive sonic screwdriver, because ... well, why wouldn't she.
Best of all, the show ended on a massive cliffhanger, the likes of which we have not seen since the classic era.
If you're a fan of the show already, it's got everything you'd expect. The bigger change, honestly, is new composer Segun Akinola taking over for Murray Gold, who composed every season of the revival until now - Akinola's music is an ambient, synth-tinged breath of fresh air from Gold's bombastic leitmotifs; we're still scrambling to hear what his version of the Who theme is, but his quieter approach seems a flawless fit for this new iteration of the show. It takes extra time to convert from centimeters and all. But perhaps more important is how much fun she is having with it. Can there be any better role model for budding young scientists?