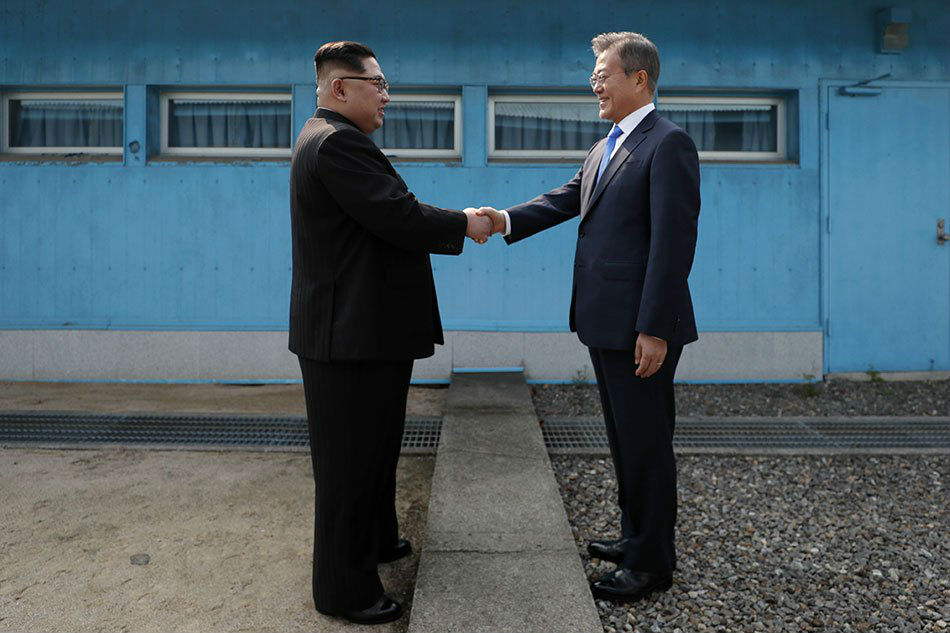 The summit, from 18-20 September, will be the third inter-Korean summit this year.
South Korea's president, Moon Jae-in, will travel to North Korea for a third meeting with the country's leader, Kim Jong-un, as denuclearisation talks with the United States stall.
Kim and South Korean President Moon Jae-in will meet in the North Korean capital on September 18-20, during which they will discuss "practical measures" toward denuclearisation, the South's national security adviser, Chung Eui-yong, told reporters a day after meeting Kim in Pyongyang.
He made the remarks as he received a high-level South Korean delegation in Pyongyang on Wednesday, for discussions aimed at planning a new inter-Korean summit, and breaking the deadlock in denuclearisation talks between the North and the US.
The North Korean leader said it was his country's "fixed stand and his will to completely remove the danger of armed conflict and horror of war from the Korean peninsula and turn it into a cradle of peace without nuclear weapons and free from nuclear threat", North's state news agency KCNA reported.
Kim told South Korean officials that his faith in U.S. President Donald Trump remains "unchanged" and he wanted to realise denuclearisation and end long-standing hostile relations between the two countries during Trump's first term, Chung said.
In a landmark summit in Singapore in June, US President Donald Trump and Kim vowed to work towards the "complete denuclearisation of the Korean peninsula", but their agreement was short on details on what that meant and how it would be achieved.
Trump abruptly cancelled U.S. Secretary of State Mike Pompeo's planned visit to Pyongyang last month, citing a lack of progress in the talks.
Chung says Kim's summit with South Korean President Moon Jae-in will focus on what specific steps must be taken to realize the denuclearization.
Chung said Kim had stressed the need for the United States to reciprocate North Korea's initial moves, which have included dismantling a nuclear test site and a missile engine facility.
While North Korea has repeatedly agreed to working towards the "complete denuclearisation of the Korean Peninsula", experts warn the language is vague and fails to address key U.S. demands that the North give up its nuclear weapon unilaterally and allow weapons inspectors into the country. North Korea has taken several steps such as dismantling its nuclear testing site this year, but the USA wants it to take more serious disarmament measures.
North and South Korea had agreed to set up the joint liaison office when Moon met Kim in April.
Chung's trip came amid deadlocked diplomacy over North Korea's nuclear program.
The Korean War ended with an armistice, leaving the peninsula technically still at war. -South Korean alliance or USA troops in South Korea, Chung said.
On the matter of declaring end to the Korean War, Chung said Kim shared Seoul's view that it was a political issue and the first step in building trust among the concerned nations.
That promise by the regime's leader comes as denuclearization talks with the US stall.