Greece is in mourning following the worst wildfires the country has seen in over a decade, with the death toll standing at 81, with over 180 people injured, and many reported missing, the exact number not yet revealed by the government.
They are believed to be families who were fleeing the inferno - some were hugging when they were found.
"Also, the fires broke out on many fronts, so all these factors made the situation extremely hard", he said.
Hundreds of firefighters are battling the blazes and the authorities are seeking global assistance.
A fire broke out north-east of Athens in the area of Rafina, a seaside resort of permanent residences and holiday homes popular with Athenians and tourists.
"I personally saw at least 100 homes in flames", said Evangelos Bournous, mayor of the Rafina-Pikermi area.
Hundreds fled to nearby beaches, with many swimming out to sea to escape the ferocious flames and choking smoke that killed at least 82 people.
Dramatic video posted on social media showed damaged buildings, orange smoke-filled skies, and people fleeing the fires by vehicle.
Over 400 firefighters have battled the blazes, along with seven water-dropping helicopters and three firefighting aircraft.
Prime Minister Tsipras has declared a state of emergency in Attica, saying "all emergency forces" had been mobilised.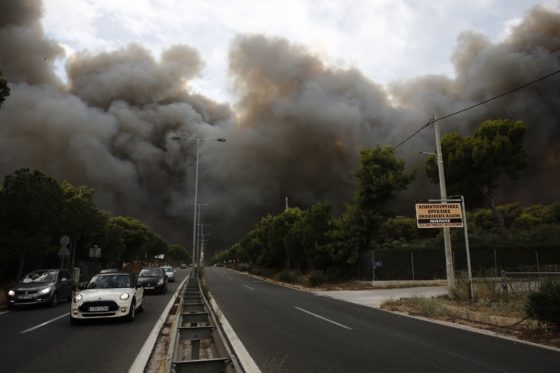 Smoke rising over an avenue during a forest fire in Neo Voutsa a northeast suburb of Athens Greece on Monday
"We're talking about a biblical catastrophe in this wonderful area of Mati", he said.
The Greek coastguard later said the bodies of four more people were retrieved from the sea.
Greece's fire brigade said the intensity and spread of the wildfire at Mati had slowed on Tuesday as winds died down, but it was still not fully under control. Some people who were already burned waded into the water and were picked up by ferries or fishing boats and the Coast Guard. Authorities evacuated more than 700 people by sea overnight, said Merchant Marine deputy minister Nektarios Santorinios, whose ministry is in charge of the coast guard.
Local communities were evacuated and the blaze shut down a almost 20-kilometre section on two highways linking the Peloponnese with central Greece.
The fire department said 156 adults and 16 children were taken to hospital with injuries. Spain and Cyprus sent two firefighting aircraft, two large fire engines and a total of 64 rescue workers - firefighters and paramedics - to Greece. "I soaked it, grabbed my wife and we ran to the sea".
It's impossible to imagine this happening in your home town, but photographs of the villages, homes, and people affected will give you a fleeting insight into what people in Greece are going through right now.
Flames rise as a wildfire burns in the town of Rafina, near Athens.
Zoe Holohan and Brian O'Callaghan-Westropp became separated as they tried to escape the fires.
Forest fires are common in Greece during the hot, dry summers and the country has been facing high temperatures recently of up to 40 degrees Celsius.