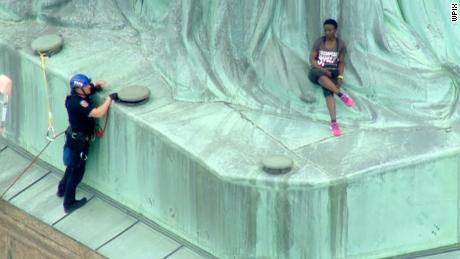 This still image taken from video Courtesy of PIX11 News in NY, shows police (L) talking to a woman who climbed to the base of the Statue of Liberty in NY on July 4, 2018.
Video shows two officers reaching the protester shortly after 5:30 pm CST near the statue's foot.
Seven protestors within that group were arrested after they displayed a large banner that read "Abolish I.C.E".
Although Okoumou was wearing a Rise and Resist shirt and is a member, the group claimed her actions were not related and that it was not aware of her plans.
Local media first reported that demonstrators opposed to President Donald Trump's zero-tolerance with illegal immigration protested there and that the woman was among the demonstrators. The protester climbed all the way to the very base of the statue, itself, sitting just below Lady Liberty's raised heel.
A New York Police Department source told CNN that Okoumou said she would only come down after "all the children are released", referring to the separated migrant kids being held in detention centers near the border. The woman then climbed down eight meters to the observation deck, where she was taken into custody. They put a harness and ropes on her in preparation for bringing her down.
The U.S. Parks Police evacuated Liberty Island during officers' standoff with Okoumou.
Liberty Island in NY has been evacuated after a protester climbed its iconic statue in a demonstration against Donald Trump's controversial border policy. "We will let everyone know how they can further support her as soon as we find out more info".
She has reportedly been an active participant in protests against the Trump administration and is a member of the group Rise and Resist. "She would not come down by voice command", said National Park Service spokesman Jerry Willis. "It was not part of our action", Quinn said. "It's our busiest week of the year, historically", Willis continued.
Therese Patricia Okoumou leaves federal court in Manhattan, New York, on Thursday, July 5, 2018. Police were forced to scale the statue to pull her down.
Okoumou is charged with trespassing, interference with national park regulations and disorderly conduct.
According to the NY Daily News, the woman was originally believed to be protesting the Immigration and Customs Enforcement (ICE) agency and the other protesters may have been from the group "Rise and Resist".