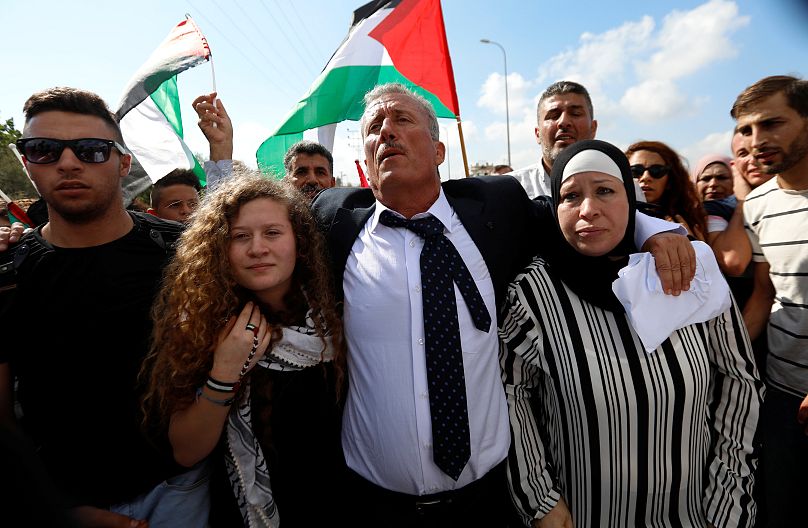 Israel released from prison on Sunday Palestinian teenager Ahed Tamimi who was jailed late previous year after she was filmed kicking and slapping an Israeli soldier in the occupied West Bank.
Just hours before she assault the soldiers, her 15-year-old cousin Mohammad had been shot in the head at close range with a rubber bullet fired by Israeli soldiers.
Tamimi was arrested in December 2017 after a video of her slapping and hitting two Israeli soldiers outside of her house in the village of Nabi Saleh went viral.
Assaf Librati told AFP Tamimi, 17, and her mother, who was also jailed over the incident, were being driven by Israeli authorities from a prison inside Israel to a checkpoint leading to the occupied West Bank, where they live.
Her family's home has been decorated with Palestinian flags and hundreds of chairs await well-wishers.
Bassem Tamimi said that his daughter completed her high school exams in prison, with the help of other prisoners who taught the required material. They took her into custody on December 19.
An Israeli police spokesperson did not return a call for comment.
Palestinians see Tamimi as a symbol of resistance to Israeli occupation of the West Bank.
The separation wall cutting the West Bank off from Israel is filled with graffiti in support of the Palestinian cause.
For Palestinians, she has become a national icon for what they see as acts of bravery in standing up to armed soldiers on occupied land.
Tamimi's case drew global attention with Amnesty International arguing her sentence was at odds with international law, which states that the detention of a minor must be used only as a last resort for the shortest appropriate period of time.