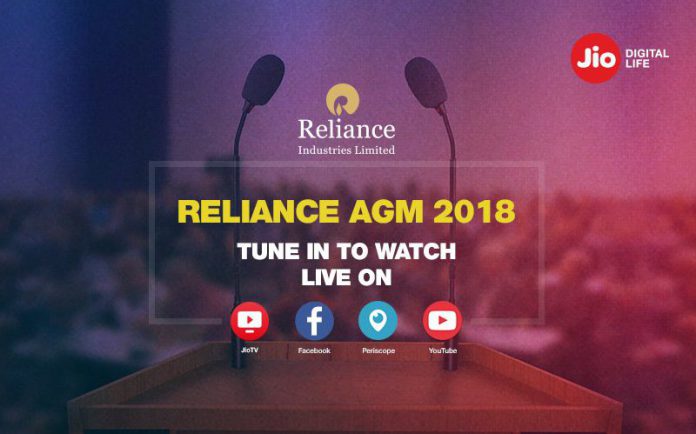 At the event, the company also unveiled the Jio Phone 2, which will be priced at Rs 2,999 and hit the market on August 15.
On Thursday, billionaire Ambani said the company was eyeing 100 million users for JioPhone, which now also supports Facebook, WhatsApp messenger and YouTube.
Ambani said that the "Jio GigaFiber" service will offer ultra-high definition (UHD) entertainment on large screen TVs.
Reliance Jio, which launched its telecom services back in September 2016 took the entire industry by surprise with its aggressive tariff plans and free services for almost six months.
Reliance Jio also announced the JioPhone 2 running on KaiOS and featuring a QWERTY keypad, VoLTE, VoWi-Fi and LTE Cat.4 which supports download speeds up to 150 Mbps. JioGigaFiber services will also allow TV-to-TV calling within the comfort of homes.
While explaining the broadband for large enterprises, Ambani said that fixed-line broadband will mean having the ability to compete in the global marketplace, using digital tools and techniques that are powering the fourth industrial revolution.
Jio GigaFiber FTTH broadband service will be rolled out in 1100 cities across the country. He also spelt out the milestones achieved by Jio, which has disrupted the telecom industry and triggered a price war.
Reliance Chairman Mukesh Ambani, India's richest man, said the company will begin registrations for its fibre-to-home service from August 15, India's Independence Day.
Talking about the GigaTV, users can give voice commands on a microphone-enabled TV remote to access Jio apps including Jio TV, Jio Cinema, Jio TV Call and much more. While the JioPhone did not support these apps initially, Reliance Jio has confirmed that JioPhone users will be able to download the three apps from the app store starting 15 of August.
Jio announced that it will be extending its wired broadband service to homes, merchants, small and medium enterprises and large enterprises. Fixed-line broadband offers hundreds to megabits, even gigabits per second of data speeds.
Nearly two years after rolling out its mobile services, Reliance Jio is now gearing up to bring another disruption in the telecom industry.
For its new commerce platform, the RIL will develop a synergy between Reliance Retail and Jio.
Jio GigaTV will let users call other GigaTV users, as well as mobile users on other cellular networks.
The JioGiga Fiber network with all the essentials will turn a home into a JioGigaFiber smart home, in less than an hour.