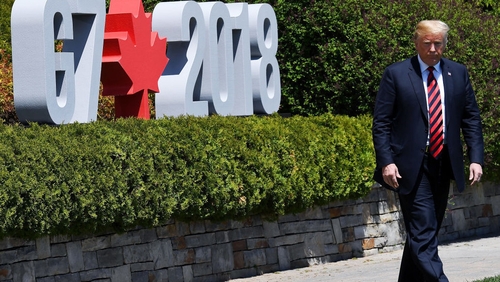 President Trump's chief economic adviser accused Canadian Prime Minister Justin Trudeau of stabbing the USA and fellow G-7 negotiators in the back with "amateurish" verbal attacks during a domestic press conference.
Trump, who was headed to Singapore for a summit with North Korean leaders, criticized Trudeau for making "false statements" at a news conference held after Trump had left Canada.
Trump is now feuding with Trudeau and other close allies of the United States over trade just one day after leaving the G7 Summit in Canada where he met with world leaders.
Trump had told Trudeau any retaliation would be a mistake and the prime minister agreed that it was "not something we want to do".
Speaking to CNN today, Trump adviser Larry Kudlow says he personally negotiated with Trudeau during the two-day G7 summit in Quebec's Charlevoix region and insists the United States agreed to the language in the communique in good faith. "That's what weak, dishonest Justin Trudeau did, and that comes right from Air Force One".
On Twitter, Mr. Trump called his remarks "very dishonest and weak", citing Canada's imposition of tariffs on dairy products.
When Mrs Merkel was asked if she was concerned about President Trump's retaliation against European Union counter-measures by imposing tariffs on cars, she said: "First of all, we'll try and see if we can prevent this and then hope that the European Union will respond again in the same unity".
That move was met with criticism at home, including from Republicans, and announcements of retaliatory tariffs from USA allies.
Top EU official, Donald Tusk, no doubt harried after Trump's belligerence at the meet - during which the US President also refused to sign a joint communique with the G7 members - wasn't going to take this lying down.
Larry Kudlow, director of the U.S. National Economic Council, said on CNN that Trudeau engaged in "betrayal" and "stabbed us in the back".
We will act too, says the German Chancellor. The Trump administration imposed aluminum and steel tariffs on the other G-7 members - the United Kingdom, Germany, Italy, France, Canada and Japan - ratcheting up tensions between the US and its allies in the run-up to the summit.
Kudlow suggested Trump saw Trudeau as trying to weaken his hand before that meeting, saying the president won't "let a Canadian prime minister push him around".
Mr Trump has angered America's closest allies by imposing tariffs on steel and aluminium imports from Canada, the European Union and Mexico.
"I have made it clear to [President Trump] that it is not something we relish doing, but it is something that we absolutely will do", Trudeau said.