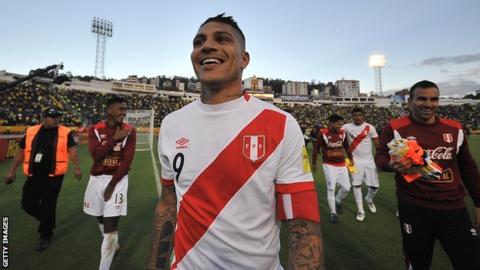 On Thursday, the Peruvian FA revealed that there will be a further appeal to the Swiss Federal Court, which will, at the least, delay any suspension until after the World Cup has taken place.
The former Bayern Munich player is now set to captain of Peru in its first World Cup appearance since 1982.
Guerrero, who will nearly certainly not have had another chance to play at the World Cup even if Peru qualified again, is now free to lead his country in their first appearance at the tournament for 36 years. Aside from appealing and pleading his case, Guerrero also received support from players Peru will face this summer from the national teams of Australia, France and Denmark, while also getting support from stars like Luis Suarez.
Sport's top arbitration court responded by increasing the reduced six-month ban to 14 months.
Guerrero has released a statement, saying, "There are no limits".
Switzerland's supreme court granted an interim order to freeze Guerrero's 14-month ban for a positive doping test at a World Cup qualifying game.
The verdict was expedited as FIFA's World Cup squad registration deadline falls on Monday (June 4).
Guerrero was suspended after testing positive for benzoylecgonine, which is a metabolite of cocaine. He argued that the stimulant had not been performance enhancing, and was accidentally consumed in contaminated tea.
His Fifa-imposed ban of six months had expired that same day. The panel decided a ban to January 2019 was an "appropriate sanction ... in light of Mr Guerrero's degree of fault". He then returned to play for Brazilian club Flamengo.
Guerrero had been given a boost earlier today when the CAS said they would not object if the Tribunal ruled he is eligible to play.
Guerrero had the right to a supreme court appeal because CAS is under the jurisdiction of Swiss civil law.
Peru opens against Denmark on June 16 in Saransk.
Peru soccer federation president Edwin Oviedo said the ruling was "a nice way to unite the whole country with an announcement that makes all Peruvians happy".