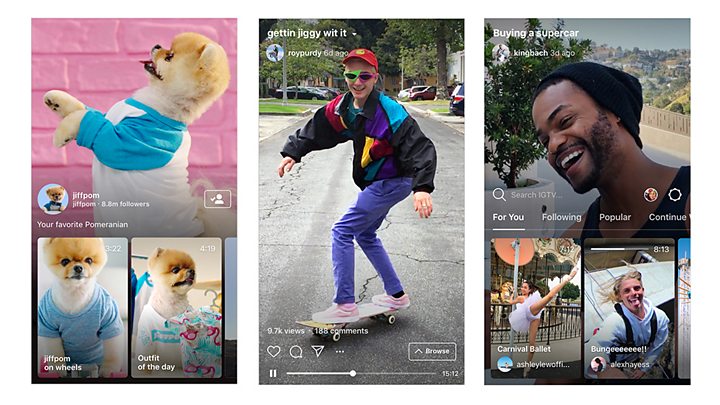 IGTV is a new app and space within Instagram where people can watch long-form (up to an hour), vertical video from their favorite Instagram creators, allowing them to connect more meaningfully.
"When you follow a creator on Instagram, their IGTV channel will show up for you to watch", Systrom said in a post on Instagram. IGTV videos are full screen and vertical. This compares to Instagram video posts which are capped at the one-minute mark, or Instagram Stories which can contain 15-second long video snippets. You can also tap Search IGTV and enter a few words to find IGTV creator channels to follow. However, it will also suggest others that you might like to watch, based on your interests. The Popular section offers a selection of clips that have been liked by the community, while Continue Watching lets users return to videos that they have not finished viewing.
Taking YouTube by the horns, Instagram has announced, with much fanfare, the launch of IGTV - a video content-only wing of Instagram.
Video will be available through Instagram or a new app called IGTV which will give Facebook more opportunities to sell advertising.
Instagram revealed the video platform in San Francisco on Wednesday, at an event attended by web celebrities like gamer Tyler Blevins, also known as Ninja, and Lele Pons, who has 25 million followers. And since IGTV arrives in an already crowded market for streaming content, Instagram is launching IGTV in a very accessible way. You can upload your own videos there, too.
Instagram (IG), a Facebook subsidiary, is apparently chasing after another business this time, as it recently released a new feature to the IG app. Here's what you need to know about IGTV, including how it works and what's the point. "Right now, we're focused on building engagement", said Systrom, adding that Instagram always likes to start simple, ads are a logical place to go, and the company would cut creators in on any money it makes.
The new feature is going to be available immediately globally so you should see it on your app at some stage today. One big disappointment from a design standpoint though, is that the app does not support full-screen iPhone X video. Those who already have an Instagram account will have a channel created for them automatically.