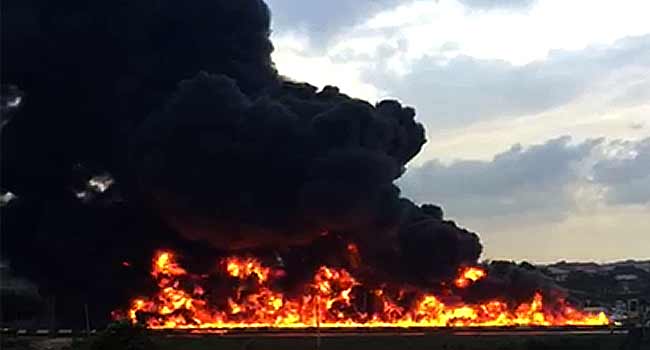 Tragedy struck yesterday on the ever busy Lagos -Ibadan Expressway when a petrol Tanker lost control, spilled its content, exploded and killed about nine pedestrians.
Passersby and traffic officials as well as emergency responders collaborated to evacuate passengers in the two buses, which were almost filled to capacity, to emergency centres.
Another four people were injured in the accident on Thursday evening, and 54 vehicles were burned. Fire, police and other authorities attended the scene amidst efforts to clear the road of the destroyed vehicles.
President Muhammadu Buhari last night expressed shock and sorrow over the fire incident in Lagos, in which many people were feared killed with several vehicles burnt.
"I want to commiserate with all the families of those that have lost their lives".
"As a government, we would not relent in putting measures in place to ensure safety of lives and property of all residents", said Lagos state government spokesman Kehinde Bamigbetan in an emailed statement. He called for the co-operation of all citizens with the officials of the agencies to restore the situation to normalcy.
"Unfortunately maybe lost control and then spilled nearly all its contents on the road and there was an explosion which caught up with a lot of vehicles".
"I pray to God to give the victims' families the fortitude to bear the loss", Obasa said in a condolence message signed by his Chief Press Secretary (CPS) Musbau Rasak. He added that the tanker, five buses, two trucks, a tricycle and 45 cars were burnt out.
At the time of the accident, which was put at 5:30pm by the Corps Education Officer of the FRSC, Commander Bisi Kazeem, the stretch of the road usually witnesses traffic snarl, thus resulting in the inability of drivers to manoeuvre.