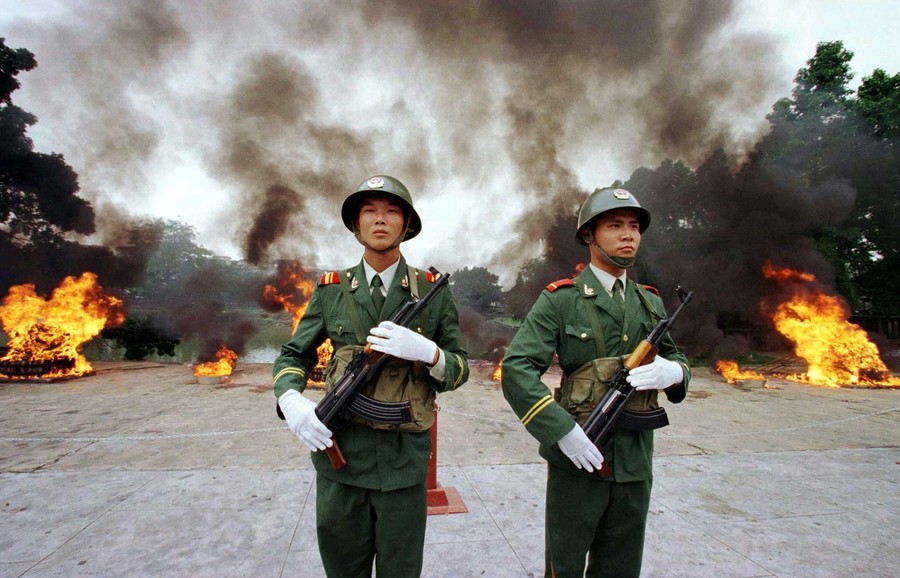 Britain's FTSE 100 lost 0.2 percent to 7,603. Dow futures were flat while futures for the S&P 500, which on Wednesday closed at its lowest in almost a month, were up less than 0.1 percent. Equity futures indicate Wall Street will open weaker and MSCI's ex-Japan Asian equity index fell 0.8 percent to a fresh two-year low. Hong Kong's Hang Seng added 0.5 percent to 28,497.32 while the Shanghai Composite in mainland China extended its losses by 0.9 percent to 2,786.90. Australia's S&P-ASX 200 edged down less than 0.1 percent to 6,195.90.
In commodity markets, gold was seemingly no longer considered a safe haven by investors and hit its lowest in more than six months.
Restrictions on U.S. exports to China - of sensitive technologies that the government wants to protect - will backfire, hampering President Donald Trump's intention to lower his nation's trade deficit, according to Commerce Ministry spokesperson Gao Feng on Thursday.
The Global Times said support could be provided to companies like ZTE Corp, China's second-largest telecommunications equipment maker, which ceased major US operations after the United States imposed a ban in April.
On Wednesday, China's state-run Global Times newspaper said the nation should take "self-defense measures" against U.S. tariffs by offering subsidies to companies and industries that may suffer losses from trade frictions. It didn't address complaints Beijing hampers access to promising industries and that plans for state-led development of Chinese champions in electric cars and other industries violate its free trade commitments.
Oil's rise, despite last week's deal by crude producers to raise output, helped Wall Street rebound on Tuesday, while technology stocks also jumped as President Donald Trump said he endorsed a measured approach to restricting Chinese investment in US tech companies. He urged Congress to strengthen existing laws that apply to all foreign countries instead.
The Chinese currency in the offshore market weakened 0.7 percent to 6.5811 yuan per dollar, its lowest level since late-December 2017.
In two separate moves in recent weeks, the United States has slapped tariffs on steel and aluminium imports from a number of sources, including the European Union, and on $50bn worth of Chinese goods. The market recovered when Peter Navarro, one of President Donald Trump's top trade advisers, told CNBC that there was no plan for investment restrictions and that the administration's probe into alleged technology theft is limited to China.
Beijing is monitoring the impact of the proposed strengthening of the Committee on Foreign Investment in the United States, after Treasury Secretary Steven Mnuchin won an internal fight to stave off an even tougher approach to curbing Chinese investment in U.S. technology. Trump, who withdrew the US from an Iran nuclear deal in May, is reportedly pushing foreign nations to cut their oil imports from the country to zero by November, when sanctions on Iran's energy sector will kick in again.
US crude futures last traded at $72.51 a barrel, down 0.33 percent in Asian trade. The contract gained $2.23 to settle at $72.76 per barrel on Wednesday. Brent crude, used to price global oils, added 62 cents to $76.93 per barrel in London.
Yet the dollar could not sustain gains on the yen and eased back to 109.85 from an early 110.12.