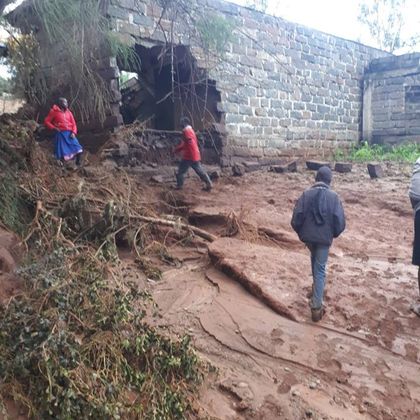 At least 20 people have died after a dam burst in a Kenyan town after weeks of heavy rain, causing 20 deaths, according to Kenyan police.
The burst happened on Wednesday in the town of Solai.
The area has seven dams used by a commercial farm, said Keffa Mageni, an official with an advocacy group that helps resettle displaced people.
"Many people are missing".
The increased damage from the disaster also points to the poor planning and the lack of disaster preparedness among official agencies in the country.
Emergency teams have launched a search and rescue operation and they believe the death toll could rise in the next few hours.
The heavy rains in Kenya and other regional states come after a severe drought which left millions of people in need of food aid.
Bodies, mostly of women and children, covered with mud were retrieved at a coffee plantation and in nearby bushes.
The floodwaters carved out a dark brown chasm in the hillside and swept away everything in their path - powerlines, homes and buildings, including a primary school.
Also affected were Solai Boys High School and Arutani Girls Secondary School.
"We are saddened by the loss of lives and property occasioned by the bursting of Patel Dam in Solai, Subukia".
Nakuru County Governor Lee Kinyanjui said water from one of the other dams will be discharged to avoid a disaster and that a village near that dam will be evacuated. One witness told Reuters that she was at home making some tea when her sons entered to alert them about the burst.
'It was a sea of water, ' she said. My neighbor was killed when the water smashed through the wall of his house. He was blind so he could not run. They found his body in the morning'. "All our houses have been ruined", Ms Ngigi added.
Reports say the dam that ruptured is owned by a farmer and that authorities have launched an investigation to find out if he was given permission to set it up.