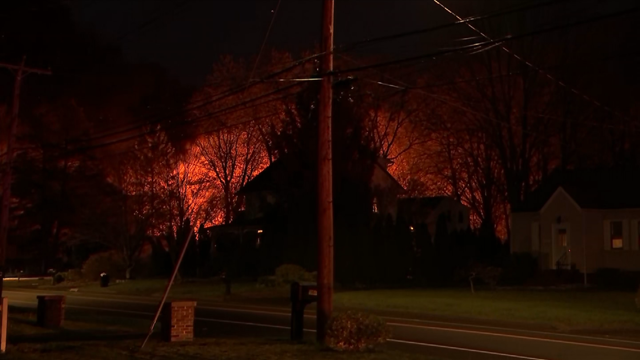 - An explosion resulted in a large fire at the home of a man who reportedly held his wife hostage.
A town official says officers responded to the home earlier in the day and were trying to coax the man out when the explosion happened. The SWAT team and the man were in a standoff for some time and then an explosion rocked the property, Fox 61 reported.
The chief of police in Branford confirms that a Branford officer was injured in the explosion.
All seven are in the emergency room and under medical evaluation, Yale New Haven Hospital spokesman Mark D'Antonio told CNN.
A house in North Haven exploded Wednesday night and a massive fire is burning.
Residents posted messages on the North Haven Police's Facebook page that the explosion shook their homes.
New Haven cops are pitching in Wednesday night with an unfolding tragedy in North Haven.
At least three police officers were seen being placed into ambulances, WFSB-TV reported.
New Haven's fire department also send a crew to the scene.
Police have not released any details about why they were on the scene, but issued road closures and asked that people to avoid the area. Meanwhile, firefighters rushed to the scene to battle the blaze as plumes of thick black smoke covered the neighborhood after the blast.
State police said they were assisting North Haven police with the investigation.