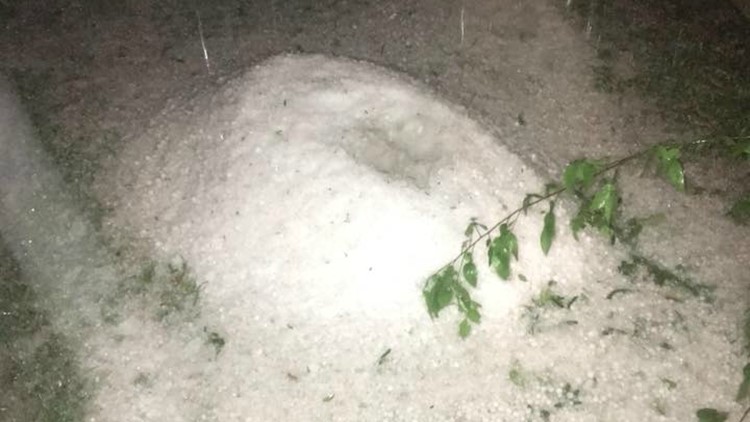 Most towns around central North Carolina started the day with temperatures in the mid-50s, but the mercury will climb to near 80 degrees both Friday and Saturday.
"This is a transition day". Please have multiple ways to receive severe weather information. Morning lows Sunday will cause headaches for those who have planted cold sensitive plants with temperatures dipping into the low to upper 20s.
Your Cape Fear Region temperature and wind flow model continues to advertise south breezes and mild to warm temperatures for Friday afternoon. Please be alert for stormy weather at the tail-end of the weekend as a strong cold front swings through. All modes of severe weather our anticipated with this event, as damaging wind gusts, tornadoes, large hail, and flooding are all expected. We have High Wind Warnings in effect today and into Saturday evening. Some of those areas are under a Slight Risk for severe weather Saturday. A brief tornado is possible. The highest risk for damaging storms happens later in the day - from about 11 AM through 7 PM. Rains will come and go tomorrow, and we expect some significant holes in the coverage to be seen through mid-afternoon. We're on the cusp with a MARGINAL risk of severe storms according to NOAA.
The current track has the showers and storms moving through the heart of the Tri-State around midnight, but it is possible they could speed up or slow down throughout the evening. The wind will increase to 15-25 miles per hour. While an isolated shower or two will be possible in the late morning and early afternoon, the greatest threat of isolated severe storms will arrive between 9:00 PM Sunday and 2:00 AM Monday.
As the band of thunderstorms progresses eastward, heavy rain and strong to severe thunderstorms will develop across our entire region into the overnight hours before exiting east Alabama Sunday morning. These chilly temperatures will continue into Sunday, so you will want to have a jacket with you. We are dry to finish the week.