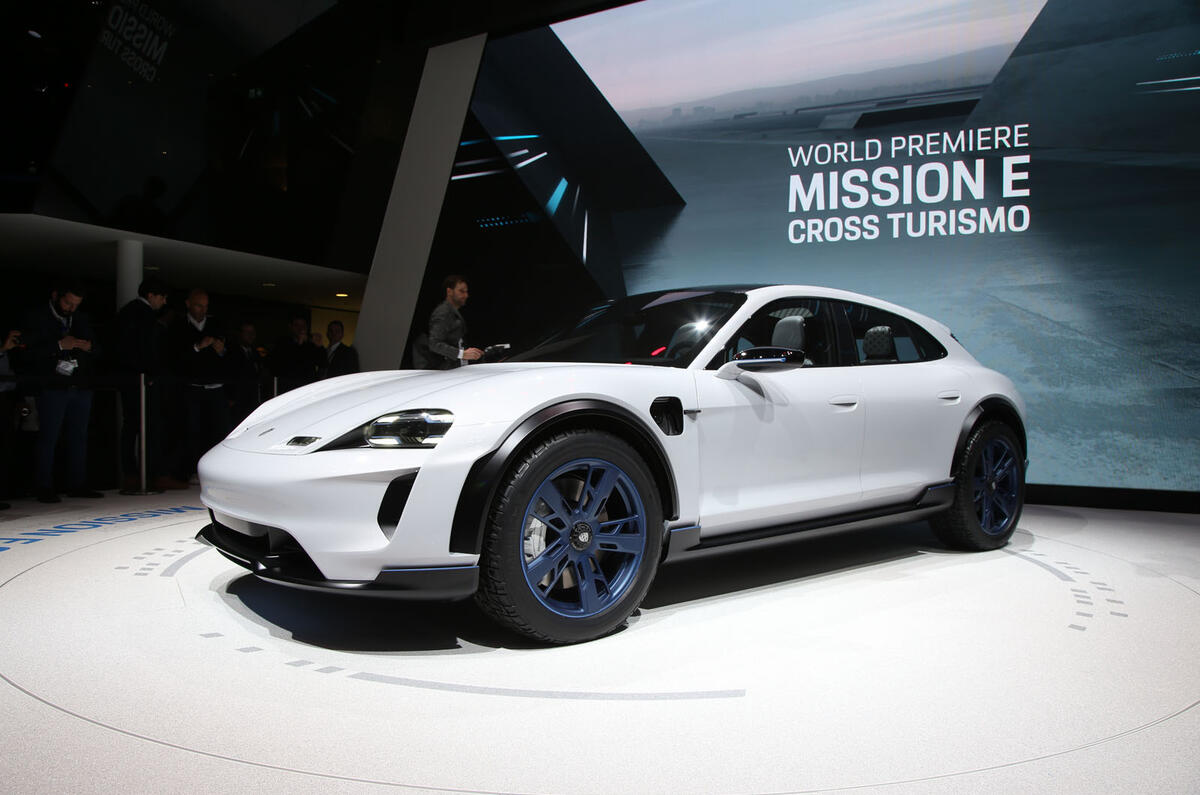 Porsche likes to spring a surprise at the Geneva motor show, and for 2018 it's come up with this, the Mission E Cross Turismo.
The electric motors are fed by a battery-powered drivetrain with an 800-volt architecture that offers shorter charging times and a lower curb weight.
Porsche CEO Oliver Blume described the model as a auto to "fuse Mission E design with Panamera Sport Turismo off-road touches".
It's not really a Sport Turismo like the Panamera, although it's arguably an estate. Porsche stated back then that the Mission E concept with serve as a base to all full-electric Porsche models of the future. Blue alloy wheels with all-terrain tyres complete the look.
Like the upcoming production Mission E, the Cross Turismo relies on two synchronous electric motors, one on each axle, to provide through-the-road all-wheel-drive capabilities.
The Mission E Cross Turismo can do 0-62mph in 3.5sec and has a top speed of 155mph. Adaptive air suspension increases the ground clearance by up to 50 millimetres. On the green front the vehicle boasts a new 800-volt electric circuit which can charge the batteries in just 15 minutes via a dedicated charging station. The vehicle charges using an 800V fast-charging system that integrates with a Porsche home energy management system.
Other styling cues are quite clearly inspired by the 911 and other classic Porsche models.
The larger and more capacious Cross Turismo version of the Mission E offers similar performance: Porsche quotes a 0-to-62-mph time of less than 3.5 seconds and a top speed of 155 miles per hour.
How fast does it charge and what's the driving range?
"The system is throttled", he said of the
Tesla
. Overall length is 194.8-inches, width is 78.3-inches, and height is 55.9-inches. And that's not all. On the road, the E Cross benefits from Porsche Dynamic Chassis Control (PDCC), which aims to eliminate body roll for more secure handling. There are also touch sensitive controls on the centre console and steering wheel.
The four-passenger vehicle features a high-tech interior design.
Adjustable straps in the cargo area can secure gear and create two load levels. It builds upon the Mission E design study presented in 2015.