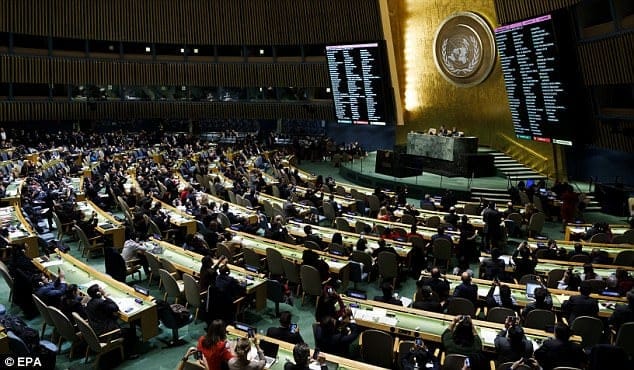 17-year-old Palestinian activist Ahed Tamimi, who was imprisoned in December for slapping and kicking an Israeli soldier, reached a plea deal with the Israeli military prosecution on Wednesday, and will serve eight months in jail with time served.
Nariman Tamimi was arrested one day after Ahed and later charged with "incitement" for filming and publishing Ahed's now famous incident with the soldiers who were raiding her hometown of Nabi Saleh, in the central occupied West Bank. Her mother, Nariman, was arrested soon after for allegedly livestreaming the incident on Facebook.
Gaby Lasky, the Tamimis's lawyer, told the Israeli magazine +972 in January that even charging Ahed's mother with incitement for her live video broadcast was "very unsafe for freedom of the press".
"At the same time, an Israeli court shortened an already short sentence for Elor Azaria, who executed a prone Palestinian in cold blood, so that he will only serve nine months in prison", Munayyer noted.
Since Israel's military appeals court rejected the request to hold Tamimi's legal proceedings in an open court, Lasky said they thought a "plea bargain is the best option that Palestinians can get in the military courts" because "we understood that Ahed was not going to receive a fair trial".
Tamimi's family have a long history of struggles with Israeli forces. Palestinians, while showering Tamimi with praise, asked whether publicising the video might have been counterproductive, by showing the soldiers behaving with restraint, or helpful, by showing that even unarmed resistance can be effective.
All three women agreed to plea bargains on Wednesday.
They also called for the expulsion of US representatives from Palestine and for the closure of all USA offices and institutions. She will spend eight months in prison.
Ahed's viral videotaped confrontation with the soldiers occurred outside her home hours after Israeli soldiers shot in the head and seriously injured her 15-year-old cousin Muhammad Fadel Tamimi. She said, according to Haaretz: "The fact that the plea agreement provides for the dropping of all counts of indictment that made her detention possible until the end of legal proceedings possible is proof that Tamimi's arrest in the middle of the night, and that the legal proceedings against her were steps created to settle scores". In images - recorded on 15 December in context of protests unleashed by announcement by USA president, Donald Trump, of recognizing Jerusalem as capital of Israel - Ahed is seen alongside his cousin Nur (21), beating and hitting one of soldiers.
The case drew global attention. The judge ordered that the trial be conducted behind closed doors and said having a large crowd in the courtroom was "not in the interest of the minor".
The Israeli military said the soldiers were in the area to prevent Palestinians from throwing stones at Israeli motorists.
The images of Tamimi striking the soldier had also made an impact on Israelis, who debated whether the officer should have hit back.
"No justice under occupation!"