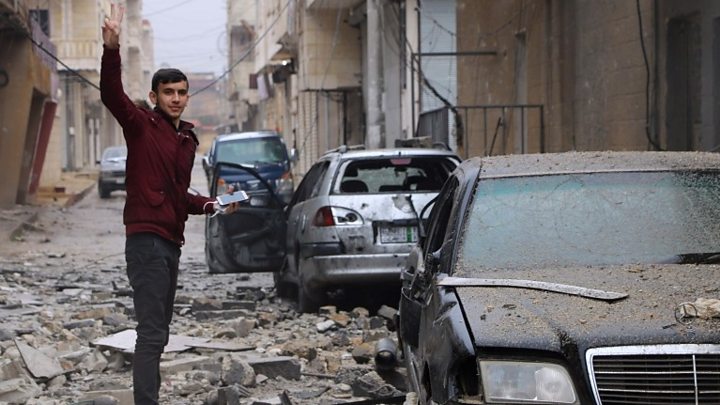 Jaish al-Islam and the other main rebel faction, Failaq al-Rahman, have repeatedly denied that they are in negotiations with Damascus or its ally Russian Federation over their own evacuation.
State television reported that the army was advancing near Mesraba and Mudeira, two small towns which represent the last link between the northern and southern halves of the enclave, which is located near to the Syrian capital Damascus.
In the Eastern Ghouta region, 46 trucks arrived on Monday with aid for the needy populations, however, the delivery of the products had to be suspended due to heavily armed attacks by extremist groups against the caravan.
One of the area's two main rebel groups, Jaish al-Islam, said it had agreed with the United Nations to allow the evacuation of fighters that it was holding from Tahrir al-Sham, an alliance of jihadist factions linked to the Nusra Front.
The Syrian government has stepped up efforts in retake the rebel-held enclave in recent weeks, leading to more than 900 reported civilian deaths.
The mission followed what opposition activists and a war monitor said was one of the quietest nights in eastern Ghouta since Syrian government forces escalated their assault on the rebellious region on February 18.
The ferocious three-week assault on the last major rebel stronghold near Damascus has captured about half its area and killed 960 people, according to the Observatory.
It said the initiative was "based on consultations between Jaish al-Islam and the United Nations, and a number of global actors".
At least 20 civilians - including four children - were killed in Douma on Saturday, in addition to 17 civilians in other battlefront towns, said the Observatory.
Saturday, Ankara-backed rebels advanced against Kurdish militia in northwest Syria, coming to within two kilometres (just over one mile) of the flashpoint town of Afrin, the Observatory said.
Both the SOHR and an embedded news agency reporter said that Turkish forces had captured a military base from Kurdish groups and were seen taking heavy machine guns out, while exchanging fire with Kurdish fighters. Russian military outposts in the country have also come under rebel attacks recently, including a massive drone raid earlier this year involving 13 aircraft equipped with satellite navigation.
Within the last eight months, the regime has stepped up the siege, preventing food and medicine from entering the district, leaving thousands of residents in need of medical treatment.